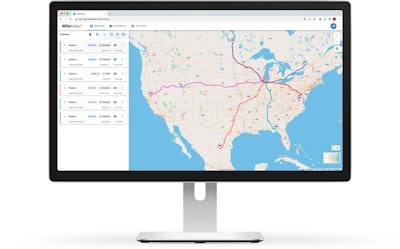 MileMaker introduced a new API on Monday that features enhanced routing capabilities.
The new API features Guide 20, a new mapping guide that combines mileage and rating services with commercial truck routing and search capabilities. API Version 2 also gives users more features for planning routes, including traffic-influenced routing and truck-specific mileage calculations.
[RELATED: Rand McNally acquires data analytics company]
"This exciting development marks a significant milestone in our commitment to delivering state-of-the-art technology to our valued customers," says John Barrett, director of product at MileMaker. "The inclusion of Guide 20 in MileMaker Web Services opens up routing possibilities for freight shippers and carriers. With its advanced set of features, the new version includes enhanced route optimization, traffic-influenced routing, hazmat routing, accurate address geocoding and search, and comprehensive mapping functionalities. This integration empowers organizations to streamline their logistics operations, improve fleet efficiency, reduce costs, and ensure timely and reliable deliveries."
The new API will integrate with any third-party application, including transportation management systems. MileMaker says the software is scalable and future-proof, ready to support new features and updates and new map versions. It adheres to Open API specification and is compliant with OAuth 2.0 authentical and authorization protocol, and also features improved scalability and throughput.
MileMaker recently officially separated from Rand McNally, allowing the company to focus on enhancing their product portfolio and improving customer satisfaction, it says.