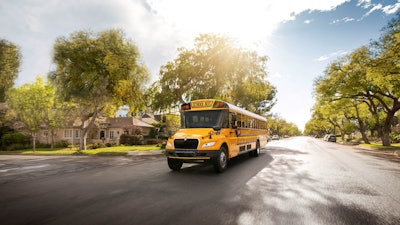 IC Bus Friday announced the launch of its next generation CE Series school bus, a newly redesigned and updated version of its flagship CE Series originally launched 20 years ago.
According to IC Bus, the all-new CE Series provides customers with efficient operations and enhanced driver comforts, improved total cost of ownership (TCO), and increased safety features. The bus elevates the brands' reputation for reliability, durability and serviceability, while delivering product and service design innovations. The increased 83-passenger capacity school bus also is available in both diesel (Cummins B6.7) and zero-emissions electric powertrain options, the company says.
"Our CE Series has remained best-in-class for decades; we have taken into consideration the legacy features our drivers love and built upon them to enhance both operator and rider experience," says Justina Morosin, vice president and general manager, IC Bus. "Additionally, we offer an electric powertrain to our customers to aid in achieving their own sustainability goals while maintaining the efficiency needed in day-to-day operations."
[RELATED: How you pay your techs depends on your techs]
IC Bus says the electric powertrain available in the all-new CE Series offers a quieter ride for drivers and passengers, as well as three levels of selectable regenerative braking for a smoother ride, battery efficiency, and operating experience. It comes standard with alternating current (AC) and direct current fast charging (DCFC) readiness and a state-of-the-art digital instrument cluster. The company adds two battery pack options of 210 kWh with 135-mile range or 315 kWh with 200+ mile range are available to meet customer range expectations. The electric powertrain option operates at a peak power of 255 kW or 342 horsepower.
Additionally, passive and active safety features are integrated into every part of the all-new CE Series. IC Bus says the bus features a redesigned front end with a sloped hood for enhanced driver visibility and a new grille for an updated look. New entrance doors now include single glass panels without separator, providing improved driver visibility out the entranceway.
The enhanced dash cluster with a 5 in., LCD color display provides alerts and customizable views for the driver. Integrated safety systems include an optional tire pressure monitoring system, standard electronic stability control, Bendix Intellipark electronic parking brake for air brake models, door ajar driver alerts, and the Bendix Wingman Advanced Safety package with autonomous emergency braking and active cruise control with braking features for air brake models.
Other features for driver comfort include integrated heating, ventilation, and air conditioning (HVAC) system with improved performance, blend-air system, and automotive-type controls. The completely new system features superior venting and overall output and performance.
Now standard, a stalk shifter for transmission control has been mounted on the steering column, enabling the driver to more easily reach and smoothly operate shifting and engine braking while keeping their eyes on the road. Improved ergonomics also enable gear shifting with a simple push or pull motion, IC Bus says. Additional driver comforts include a full range of driver seat options to suit drivers of all shapes and sizes, improved driver and passenger entry and egress, and a new ergonomic wing instrument panel angled toward the driver with backlit controls.