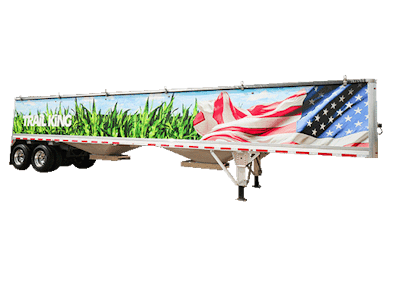 Trail King announced a new grain hopper trailer built from 100% recycled composite materials.
[RELATED: Trail King expands dealer network]
The trailer, available in 41-inch and 51-inch models, features a one-piece molded lower hopper with a 22.5-inch ground clearance. The composite, smooth, single-panel construction resists corrosion and is lighter to pull, the company says. The trailer's subframe and upper coupler are painted individually with a zinc-rich paint process.
The new trailer will be on display at agriculture shows for the next couple of months. Catch it at:
Dakotafest, Aug. 15-17, Mitchell, South Dakota.
Midwest Ag-Industries Expo, Aug. 23-24, Bloomington, Illinois.
Farm Progress, Aug. 29-31, Decatur, Illinois.
Big Iron Farm Show, Sept. 12-14, Fargo, North Dakota.
Husker Harvest Days, Sept. 12-14, Grand Island, North Dakota.