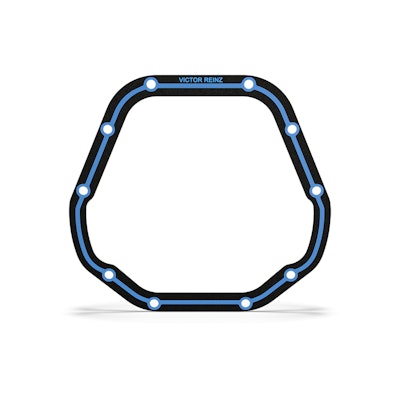 Dana on Tuesday introduced a new line of Victor Reinz Victor-Lock reusable differential gaskets designed for severe-duty applications.
"Victor-Lock gaskets significantly reduce the possibility of gasket degradation over time, delivering dependability and long gasket life in the most challenging environments," says Dana's Bill Nunnery, senior director of sales and marketing, global aftermarket. "Since no additional sealants are required when installing Victor-Lock gaskets, downtime is minimized and there is no mess."
[RELATED: Dana expands Spicer Select drivetrain coverage]
Victor-Lock's gaskets are made with FoamFlex material on both sides and a steel core. The blue elastomeric sealing bead localizes sealing stress, helps to seal between bolt holes and provides an added level of protection for castings that are not perfectly flat or aligned. No room-temperature vulcanizing is needed.
"Traditional gaskets made of paper fiber and corn can break down over time and create leaks," Nunnery says. "With Victor Reinz Victor-Lock reusable gaskets, our customers will get stronger, longer-lasting gaskets that provide the sealing security that they can depend on from the name they trust."