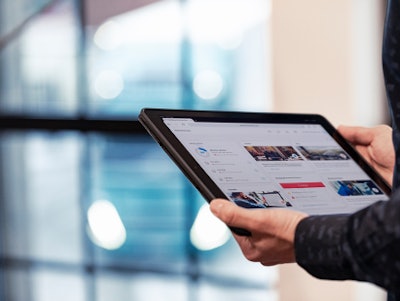 Volvo Trucks and Mack Trucks both launched a new fleet management portals, Volvo Connect and Mack Connect.
The portals give fleets near real-time data on the health and performance of trucks in operation, including fuel consumption, idle time, vehicle speed, and seat belt and location information. The new products were announced at the American Trucking Association's 2023 Management Conference & Exhibition in Austin.
[RELATED: Volvo launches Turnkey Solutions program to support EV adoption]
"We developed Volvo Connect because customers were asking for a central portal to easily access important information about their truck," says Peter Voorhoeve, president of Volvo Trucks North America. "Volvo Connect provides our customers will valuable data on the trucks in their fleets with a focus on operational efficiency and providing valuable information related to driver performance. Safety and sustainability are core values for Volvo Trucks and are critical in our journey toward zero emissions. We're confident Volvo Connect will be a great service for our customers on their own safety and sustainability journeys."
[RELATED: Volvo expands service contract product, adds more Certified EV Dealers]
"Mack Connect improves customer visibility into the health and performance of their vehicles and simplifies the process to access the data," says Jonathan Randall, Mack Trucks North America president. "We listened to our customers and developed this portal to help fleets improve their operational efficiencies and profitability while also allowing them the visibility to ensure their trucks are operating at peack performance."
[RELATED: Mack introduces connected vehicle services for maintenance, efficiency]
Volvo Connect and Mack Connect work with the factory-installed 4G Telematics Gateway to give fleets the ability to check and monitor parameters such as maximum allowed road speed and idle shutdown, ensuring they are set correctly and optimized for the truck's assignment. It also provides remote diagnostics and remote programming visibility. Reports allow fleets to analyze trends to reveal performance metrics to improve the efficiency and compliance of both the trucks and their drivers.
[RELATED: Mack Trucks opens remodeled experience center]
"The Volvo Connect portal provides fleets with a deeper analysis of their truck data and not just a high-level scan," says Magnus Gustafson, vice president of connected services at Volvo. "We will continuously add more features, reports and truck insights to provide fleet managers with the information needed to make effective, data-based decisions about their fleet."
Location services include each vehicle's current location and historical route data. The map provides travel speed, fuel level, truck restrictions and traffic data for the route ahead. It also indicates nearby Volvo dealership locations if maintenance or repairs are needed.
"Mack Connect is a portal that offers customers access to critical data that goes beyond what they are used to seeing. Mack remains committed to simplifying data data so customers can easily use it to make decisions to increase their ROI and better manage their fleet," says Patrick Brown, Mack's senior strategy and sustainability manager.
Hilco Transport of Greensboro, North Carolina, helped pilot the program for Mack.
"I'm a data-driven kind of person, so I like to be able to pull up the data that Mack Connect provides in real-time and present it when we have our executive meetings," says Mike Laughead, director of maintenance for Hilco. "We are impressed with the system and it helps managers keep tabs on operations. It's very user friendly and easy to navigate."