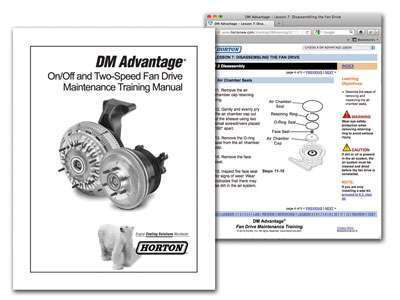 Horton has introduced a new training program for DM Advantage On/Off and Two-Speed Fan Drives. The free program is available to technicians and others interested in performing preventive and corrective maintenance on DM Advantage products.
The DM Advantage training, available online and as a printed manual, includes operation of control systems; removal, disassembly, rebuilding and reinstallation of fan drives; and ongoing preventive maintenance and troubleshooting.
To take the training online, visit www.hortonww.com/dma. To order or download a printed training manual, visit www.hortonww.com/manual.
The program also is available as free on-site training. Fleets and dealers interested in having Horton provide on-site training can call 1.800.621.1320 or +1 651.361.6400, or email info@hortonww.com.
Technicians who successfully complete the training, including the comprehensive test of the material, qualify for a certificate of completion and recognition as a certified Horton technician.
"With this new training program, technicians can easily and quickly learn to maintain and repair DM Advantage Fan Drives," says Tom Hujik, director of aftermarket and field sales. "Heavy-duty diesel DM Advantage Fan Drives are manufactured to last for many years. Therefore, proper maintenance and repair is essential to get the intended life out of these products."