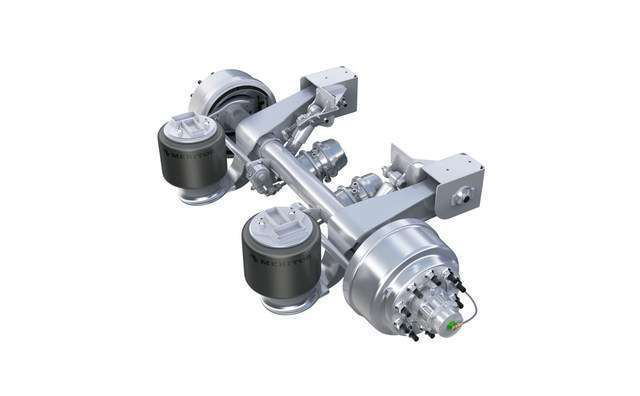 Meritor has started production on the MTA25 low-mount and MTA30 low-mount trailer suspensions, the two newest family members of its MTA (Meritor Trailing-Arm Air) suspension series for North American trailer operators.
Meritor says these units are specifically designed as part of a fully-integrated system to optimize performance and weight, and are suited for vocational applications like single-drop flatbed, double-drop flatbed, loggers and chip hauler trailers.
The MTA lineup now includes the MTA23 (23,000-lb. capacity), the top-mount MTA25 (25,000-lb. capacity), the top mount MTA30 (30,000-lb. capacity) and the two newest low-mount products, Meritor says. All MTA models are available with the optional lift kit — a quick-response system that is said to raise select axles, improving maneuverability and extending tire life. Available in painted or galvanized finishes, the lift kit attaches easily and can be installed as original equipment (OE) or field retrofitted, Meritor says.
"During the last 22 months, we've brought five models of trailing-arm air suspensions for trailers to the North American market," says Craig Frohock, general manager, Global Trailer, Meritor. "We collect feedback from a variety of sources to ensure Meritor is meeting the needs of its customers: no matter the size."
"With the last two MTA models in production at our facility in Frankfort, Ky., we're able to meet all our truck operators' demands for durability and reliability, plus the key factor of performance in the field," says Bob Brazeau, director of engineering, Aftermarket and Trailer, Meritor. "We know fleets want durable and lightweight products."