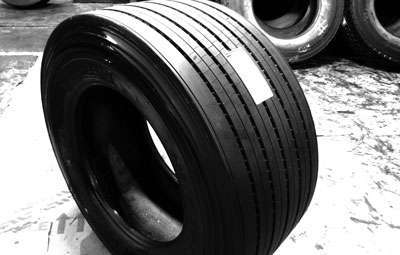 ContiLifeCycle is sending 2013 out with a bang.
The company announced Monday a new retread product just incase you were looking for some heavy-duty stocking stuffers.
John Barnes, ContiLifeCycle manager for the Americas, says the company will offer another new premium retread product – HTL1 wide single truck tire – is now available as a ContiTread retread.
"In 400 millimeter tread width, the HTL1 can be retreaded for fleets who operate wide single drive or trailer tires in sizes 445/50R22.5 and 455/55R22.5, and is an excellent solution for this special market concerned with weight and fuel savings," he says.
Wide single truck tires like the Continental HTL1 (Heavy Trailer Long Haul) are often used in liquid and dry bulk hauling applications where weight is a concern, or by fleets seeking to take advantage of weight savings for greater fuel efficiency by reducing the number of wheel and rim assemblies. Continental's HTL1 ContiTread matches the tread pattern of the new tire, Barnes says, and features 13/32" tread depth as well as a fuel efficient rib pattern.
Scott Snyder, vice president and general manager of DLS Retreading, Inc., a ContiTread licensee, says the 400 millimeter width allows his company greater flexibility in the casings they can accept.
"Because now we can retread casings with all the common sizes in this segment," he says.
Continental Tire the Americas' Commercial Vehicle Tire group also announced it has recently received low rolling resistance retread technology verification for its HDR2 Eco Plus tire under the EPA's SmartWay Transport Partnership. The HDR2 Eco Plus is now the 21st in a line of Continental new and retreaded truck tire products that are currently listed as verified by SmartWay, and the HTL1 ContiTread will be submitted to SmartWay for verification, Barnes says.