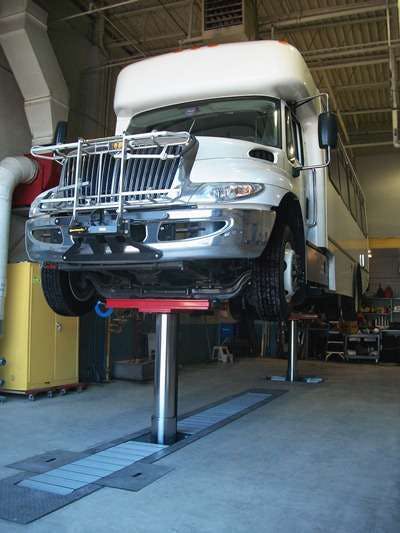 Stertil-Koni announced Tuesday that it has been awarded a major competitive bid to provide 21 of its heavy duty inground vehicle lifting systems to CenterPoint Energy, a Houston-based domestic energy company serving more than five million customers, primarily in Arkansas, Louisiana, Minnesota, Mississippi, Oklahoma, and Texas.
A key component of the award calls for Stertil-Koni to deliver 21 of the company's inground telescopic piston lifting systems – the Diamond Lift.
"The ground breaking Diamond Lift series has been designed to overcome the limitations of traditional inground piston lifts by applying thoughtful engineering and environmental focus to ensure that hydraulic fluid always remains fully contained and above ground – in a free-standing console that is easily accessible," Stertil-Koni president, Dr. Jean DellAmore, says. "In that way, the hydraulic fluid remains in a reservoir above ground, while the lift mechanism itself is contained within a separate, sealed steel cassette. The result is optimal performance and durability."
"In addition," he continued, "the Diamond Lift's piston rods are hard-chrome plated for maximum protection against corrosion and wear and the Series 64, which has two pistons for a total lifting capacity of up to 64,000 lbs., utilizes biodegradable oil."
Diamond Lift, manufactured in Streator, Ill., has a vertical rise of 73 inches and utilizes a mere five gallons of hydraulic oil per piston, in sharp contrast with other approaches that may use up to four times as much oil.
In addition, the lift features high-load-bearing articulated aluminum covers, so it does not pose tripping hazards to maintenance personnel and, because it utilizes a free-standing control box, all power and electronic controls are easily accessible above floor level.
Stertil-Koni further noted that customers appreciate that the upper portion of the steel containment is hot galvanized, providing corrosion resistance at floor level and ensuring proper interlock with the foundation. In addition, the lift's containments are coated internally and externally with DiamondGuard®, safeguarding against corrosion and electrolysis while simultaneously prohibiting hazardous shop fluids from entering the environment.
CenterPoint Energy will be utilize the Diamond Lifts to principally service its wide range of both light and heavy fleet vehicles.