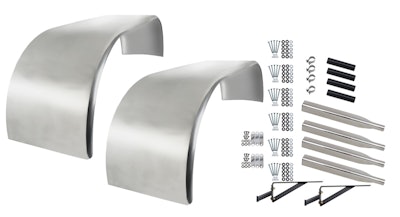 BettsHD is offering a two-day shipping turnaround for its line of Smooth Stainless Steel Fenders for heavy duty tractor/trailer applications.
"Since we introduced our line of Smooth Stainless Steel Fenders last year, customers have provided overwhelmingly positive feedback about the strength, flexibility, functionality and style of the product," says Bills Betts, vice president, Betts Company. "As our dealer and distributor partners are often called upon to provide rapid fulfillment of these products on demand, we have expanded our stock to support their excellent customer service."
BettsHD Smooth Stainless Steel Fenders feature a 24-inch width for extra spray suppression and a 1½ inch flange design. Like the entire line of safety-related products, BettsHD fenders are manufactured from the highest quality materials to provide buyers with a lasting solution.
BettsHD Smooth Stainless Steel Fenders are made in the U.S. and available in pairs or kits in single axle, half tandem or full tandem sizes. A Total Installation Kit (TIK) from BettsHD provides the best value for customers. A TIK includes a pair of specified fenders, optional mounting brackets, mounting hardware and universal center bracket(s) where required.