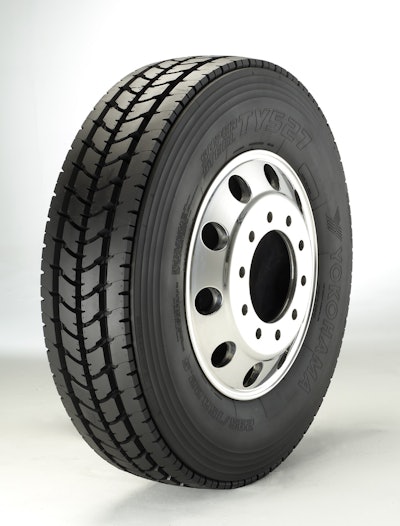 Yokohama Tire Corporation's TY527 premium drive tire is now available in three new 16-ply size offerings: 295/75R22.5, 11R22.5 and 11R24.5.
Dan Funkhouser, Yokohama director of commercial dealer sales, says the benefits of the TY527 include durable, long, even mileage achieved via a directional tread pattern that reduces block movement and resists heel and toe wear under high torque conditions. Also, the tire's stress wear control grooves alleviate contact pressure on the edge of the outside tread blocks, allowing the shoulder edge to flex easier to prevent irregular wear; managed operating temperature, thanks to an enhanced temperature controlling cap compound which produces stronger, more pliable rubber that minimizes heat generation and allows deep tread depths to provide greater stability, reduced tread squirm and high abrasion resistance; maximum durability resulting from Yokohama's special STEM-2 (StrainEnergy Minimization) technology that extends the life of the casing by directing destructive stress forces away from critical bead and shoulder areas, minimizing flex in the casing.  Additionally, stone damage prevention grooves thwart rocks and debris from reaching the bottom of the groove where they can cause premature casing damage.
The TY527 is also available in its original 14-ply, 285/75R24.5 size.