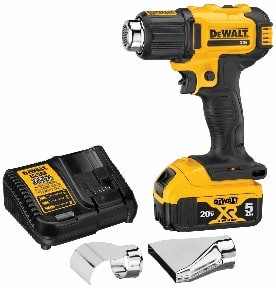 Dewalt introduces the 20V Max Cordless Heat Gun, which can be used for detailing, removing adhesives and decals, reshaping bumpers, removing paint, and more, the company says.
The heat gun features up to a 990°F max heat output with two temperature settings. The heat gun also has a specialty lock-on and -off feature enabling hands-free operation. The nozzle size of the Dewalt heat gun is universal to the standard heat gun, allowing it to be used with attachments from many corded and competitive units, the company says.
Using the Dewalt 20V Max 5.0Ah Battery, users get up to 42 minutes of runtime on one charge on low setting. The 20V Max Cordless heat gun has an output airflow of 6.7 cubic feet per minute on high setting and includes a LED light to help brighten dark areas, the company says.
The heat gun is 7.68 in. tall, 4.33 in. long and weighs 1.17 lb. (without a battery). The heat gun will come kitted with a flat nozzle attachment, a hook nozzle attachment, one 5.0Ah Battery and a charger. It will also come without a battery or accessories. It has a three-year limited warranty, two-year free service contract and 90-day money-back guarantee, Dewalt says.