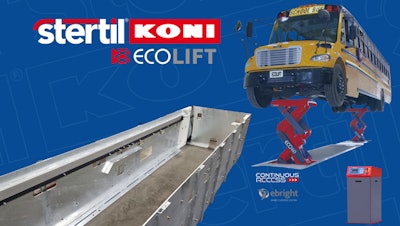 Stertil-Koni announced it has enhanced its in-ground scissor-style EcoLift to feature a hot-dip galvanized containment box as standard.
Hot dip galvanization provides corrosion resistance at floor level as well as below and is particularly effective in protecting the lift in wet environments — not uncommon in many workshops across North America.
"The latest development with EcoLift raises an already top-performing heavy duty vehicle lift to new heights," says Stertil-Koni President Dr. Jean DellAmore. EcoLift is available in two- , three- and four-scissor configurations, features a lifting capacity of 30,000 lb. per scissor — or 120,000 lb. in the largest model.
The company says EcoLift delivers wheels-free lifting for complete vehicle access with superior ease and performance. The ultra-shallow pit design, only 34 in. in depth, is ideal for retrofit and existing workshop and uniquely makes it easy to relocate — typically within a single day.
"Like all Stertil-Koni lifts, EcoLift is performance driven, ultra-safe and utilizes dependable hydraulic technology," DellAmore says.
It also has a robust mechanical locking system, is fully synchronized for ultimate safety, features a free-standing touch-screen control console for easy access and quick maintenance and delivers a continuous recess system for maximum lifting flexibility. EcoLift is available with three pit box lengths: 10 ft., 13 ft. and 17 ft., the company says.