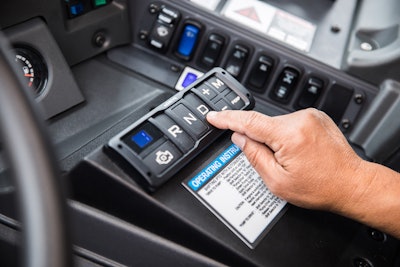 Mack Trucks announced Tuesday during the World of Concrete event that customers can now order a Mack mDRIVE HD automated manual transmission (AMT) in Mack TerraPro cabover concrete pumpers powered by the 13-liter Mack MP8 engine.
Fully integrated with the MP8 engine and Mack axles, the 13- and 14-speed mDRIVE provides concrete pumper customers a proven solution to help improve performance, boost on-site productivity and safety and maximize uptime, the company says.
"Mack's commitment to serving the construction segment and the concrete industry has been a hallmark of our 121-year history," says Jonathan Randall, Mack Trucks senior vice president of North American sales and commercial operations. "We changed the game in 2019 with the introduction of the mDRIVE HD for the TerraPro concrete pumper, the industry's first AMT for a cabover concrete pumper truck. We're building on that great success by expanding our offering to pair the mDRIVE HD with the Mack MP8 engine for customers requiring higher horsepower."
Mack customers requiring pumpers with longer booms, starting in the 30-meter to 40-meter range, prefer bigger pumps and higher horsepower to power the pumps to move concrete through the boom. The mDRIVE HD paired with the MP8 engine, delivering up to 505 horsepower and 1,860 ft.-lb., of torque, is a proven combination, providing durability and power where high horsepower is necessary. The mDRIVE HD features split-shaft PTO functionality, receiving output directly from the transmission, creating higher torque for large auxiliary equipment like concrete pumps, Mack says.
The Mack mDRIVE HD also features ruggedized internal components, including stronger gears and synchros and is built to withstand the rigors of jobsites and frequent shifting often found in construction applications. Mack says the 13- and 14-speed mDRIVE HD AMTs feature low-ratio creeper gears that enable improved startability and ultra-low speed maneuverability.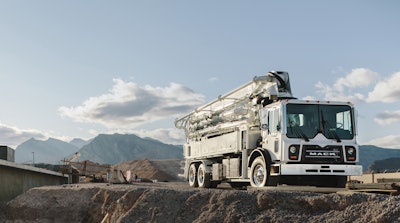 "Mack's firm belief in integrated components allows us to deliver high-performance features tailored to specific applications," says Tim Wrinkle, Mack construction product manager. "The integrated mDRIVE and MP8 engine pairing delivers on the needs of high horsepower concrete pumping applications and eliminates the need for traditional shifting, allowing drivers to focus on safely navigating jobsites and operating their equipment."
The mDRIVE HD also includes advanced standard features like Rock Free, which the company says allows drivers to free stuck vehicles by rocking the truck back and forth by pumping the accelerator, and Auto Neutral, which improves jobsite safety by automatically putting the mDRIVE into neutral when the parking brake is set. Additional features include MaxBrake, Performance Mode and Grade Gripper, which helps prevent rolling backward on an incline, the company adds.