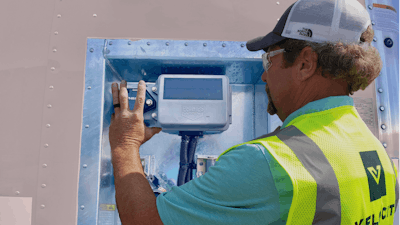 Phillips Connect announced Tuesday it is partnering with Velociti for installation and post deployment proactive technology monitoring and repair service support for its trailer telematics solutions.
Under the terms of the partnership, the companies say once a Phillips Connect customer has chosen the smart trailer solutions right for their operation, a designated Velociti Project Manager will arrange for the installation of the equipment when and where convenient for the customer. The companies say all required components will be staged appropriately ensuring an efficient installation process by Velociti certified technicians.
"Phillips Connect has developed the best scalable smart trailer technology available but we realize that just knowing about a problem is only a first step," says Phillips Connect Executive Vice President Jim Epler. "There needs to be a way to resolve the problem quickly and efficiently to maximize the benefits of the technology. Velociti has the experience, the systems and the skills to work that out and get the trailer back on the road in the most cost-effective way. I have been working with Velociti for almost 10 years and they have the best project managers and installation expertise I have ever worked with. This is a great partnership for Phillips Connect because it offers another significant benefit to our customers."
[RELATED: Paccar achieves 'very good' second quarter]
Velociti Senior Vice President Ryan Powell adds "Velociti has a long-standing history in supporting transportation technology and we are proud to partner with Phillips Connect who share a commitment to the industry and value forward thinking ideas. Our goal is to build mutually beneficial partnerships and deliver the best-in-class customer experience, both of which are achieved with this alliance."
After installation, the Phillips Connect equipment will begin continuously reporting data from all the systems being monitored, instantly identifying and sending alerts via the Phillips Connect dashboard of any problem that requires attention to keep the asset in a safe operating condition and reduce the chances of costly unscheduled downtime.
The new partnership will seamlessly integrate Phillips Connect asset health monitoring with Velociti's VeloCare.
[RELATED: Phillips updates corporate website to improve user experience]
VeloCare proactively monitors a customized 24/7 system health portal for the Phillips Connect customer and if a problem is detected, immediately notifies a Velociti representative to arrange the required repair either remotely or to dispatch a technician to complete the service at the customers preferred location.And, ass a Phillips Connect partner, Velociti will manage parts inventory, process RMA's and provide real-time visibility, and provide trailer maintenance based on real time visibility from Phillips Connect smart sensors.
The companies state This arrangement maximizes the ROI a fleet can expect from Phillips Connect health monitoring and frees the customer from having to react to technology failures.