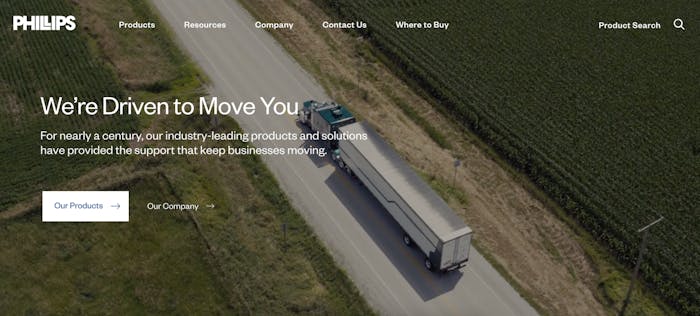 Phillips Industries says it has taken a customer-first approach to innovation, design and manufacturing of components and solutions for the commercial truck and trailer industry, creating solution-driven products and building an ecosystem of support that keeps businesses moving. The reimagined vision for the new website builds upon and reinforces these foundational blueprints with a contemporary look and feel that is easy to navigate.
With a more modern design that polishes and defines the Phillips brand, the new Phillips website offers a simplified and more visual user experience (UX) locating, engaging with and digesting information. Upon initial exploration, visitors are immersed in a cinematic experience, spanning the entire screen, with multiple vehicles and landscapes representative of Phillips' vast and global reach in the commercial vehicle industry.
Set at the forefront of this visual experience is the tagline "We're Driven to Move You," which will gradually transition to become Phillips' new slogan, slowly phasing out 'We Make Products That Make a Difference.' 
Multiple avenues to quickly access all areas of the entire site are easily accessible through the top menu bar or the new predictive product search feature. Continued navigation down the homepage builds upon Phillips' knowledge, credibility and contributions to the commercial vehicle industry with the latest news, featured blogs a commitment by numbers, and featured product technologies, the company says.
New user features designed to customize and simplify informational engagement offer more ways to search and explore Phillips products, innovations and supporting resources. Phillips says the following are just a few of these new functionalities:
Updated Product Menu Search: Mimics the organization of the catalog and offers thumbnail product images for an additional visual search.
Predictive Product Search: Search by part number or product name to display all available options.
Customizable Search Filters: Find an exact product by customizing how product information is displayed based on criteria such as length, technologies, whether a product is new, top-selling, OEM preferred, or a fleet essential, as well as by product features that are good for corrosion prevention, extreme weather, and quick installation. 
Featured Technologies: Learn more about the solution-driven technologies Phillips has to offer, either on the homepage or select product pages, with video content and features and benefits.
Where to Buy: Found on every product page, a user can locate a distributor that carries Phillips products.