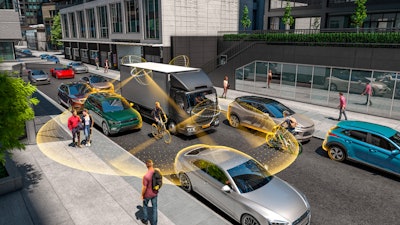 Continental
Continental has introduced the next generation of its surround view camera technology. The new ProViu 360 2nd Generation Surround View System delivers a full digital capability that gives drivers even sharper and higher quality images in HD resolution so they can easily and safely monitor their entire vehicle and its surroundings at a single glance, the company says.
This new system is an ideal solution for reducing driver stress and increasing efficiency in commercial vehicles, heavy duty trucks, agricultural and construction equipment, buses and recreational vehicles.
As a specialist in the fields of video processing, display technology, and camera applications, Continental combines all its expertise into the components of the ProViu 360 to create an advanced safety solution for vehicle monitoring, Continental says.
The new ProViu 360 camera system's 360-degree capability maximizes the field of view and eliminates the blind spots. Using four high-performance HD automotive cameras to cover every direction around the vehicle, ProViu 360 creates a virtual bird's eye view of the entire vehicle in real time. The enhanced HD resolution image is displayed in dynamic 3D views on a 10-in. HD touch screen monitor for easy viewing by the driver.