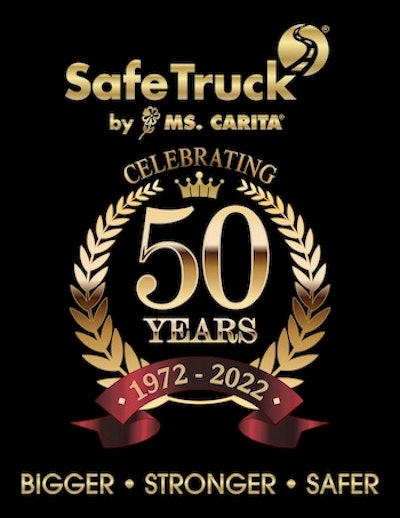 Ms. Carita SafeTruck is celebrating 50 years in business with a 2022 commemorative catalog showcasing its extensive line of oversize load banners and signs, safety flags, decals, safety items and other products for the heavy-haul trucking market. 
It all began in 1972 in California with homemade wood oversize load signs produced by trucker Merritt Mosby for loads he was hauling. There was nowhere to buy ready-made oversize load signs that are required on large loads. From there, more and more truckers and dealers in Merritt's area asked him to make signs for them. Business opportunities exploded and Ms. Carita was established. Soon Merritt's wife Carita and sons Gordon and  Michael Mosby were immersed in the business. Things took off from there.
Business evolved into new areas of high-tech printing — encompassing aerospace, airline and medical equipment, in addition to expanding their broad line of safety accessories for the trucking industry. 
In 2006 Ms. Carita moved the truck safety accessory manufacturing and distribution operation to Verdi, Nev. In 2007 Ms. Carita SafeTruck Inc. was born as a Nevada corporation to serve as a center for all SafeTruck products. Today, 50 years later, Ms. Carita SafeTruck has established an extensive network of dealers and distributors across North America where customers can find professional quality Made-in-USA heavy-haul and safety products. Ms. Carita Ownership is committed to continuing the manufacturing and distribution of outstanding quality products for the trucking world for years to come.