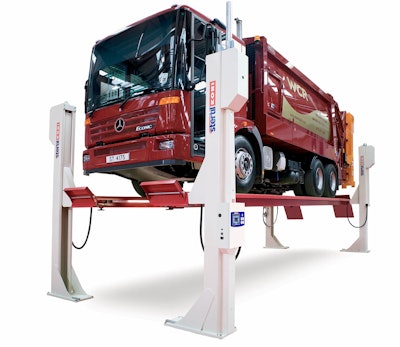 Stertil-Koni announced it has incorporated its advanced, full-color, touch-screen control console, known as the ebright SMART Control System, into the company's popular 4-Post Platform Lifts.
In that way, ongoing use and monitoring of the lift are made even more accessible — placing all critical lifting information directly at the fingertips of the person who needs it most — the busy service technician on the shop floor, the company says.
The ebright SMART Control System provides a high-resolution, 7-inch full color touchscreen, user-friendly visual controls, real-time diagnostic information, owner configurable options and all relevant information presented at a glance.
Now available on Stertil-Koni's 4-Post Lift models ST 4.300 (formerly known as ST 4120), ST 4.500 (formerly known as ST 4175) and ST 4.660 (formerly known as ST 4250), the advanced technology was first introduced in 2015 on the company's mobile column lifts. Subsequently it was rolled out to include battery wired mobile column lifts, as well as the company's true vertical rise platform SKYLIFT, inground scissor ECOLIFT and telescopic piston DIAMONDLIFT systems.
Stertil-Koni Technical Sales Support Manager Peter Bowers, says, "The ebright SMART Control System is essentially an extension of the concept of human-machine-interface (HMI). It has been specifically engineered to provide greater control of the vehicle lift in a very familiar, electronic notepad-style delivery system – and customer response has been overwhelmingly positive."
"Now, our 4-Post Lifts are even more customer-centric. The ebright systems adds to our already robust 4-Post features, which included electronic synchronization, automatic overload protection and independent mechanical locking systems," Bowers says.
Stertil-Koni 4-Post Lifts offer robust lifting capacities, ranging from 30,000 lbs. up to 66,000 lbs., and, when used in tandem, the Model ST 4.660 can easily manage loads of as much as 132,000 lbs. These lifts also utilize dependable hydraulic technology and boast a very low drive-on height, making them ideal for large, low clearance vehicles, the company says. 
Stertil-Koni President Dr. Jean DellAmore says, "The ebright SMART Control System tracks at a glance specific operations and data while the lift is in motion. In that way, fleet maintenance managers and service technicians can see in real-time the lifting height, observe service alerts or warnings and monitor the lift's motor run timer. That's an easy, very efficient way to track the equipment, schedule upkeep and invest maintenance dollars more effectively."