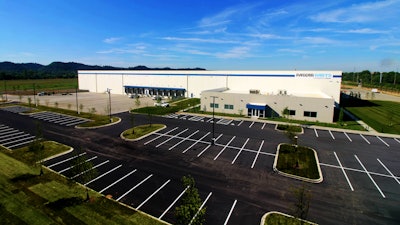 Paccar Parts announced Friday its new state of the art parts distribution center (PDC) in Louisville, Ky. is now fully operational.
The 260,000 sq.-ft., facility increases parts availability for dealers and customers in the central, mid-Atlantic and southeastern regions of the U.S. and utilizes advanced technologies and innovation to increase operational efficiency. With next day delivery and the capacity to store more than 80,000 parts, the Louisville PDC will provide unparalleled service and delivery to support dealers and customers, the company says.
"The Louisville PDC will use the latest technologies to reduce the time between order placement and delivery, allowing us to maximize uptime for customers," says Tom Floyd, Paccar Parts senior director – Operations.
The distribution center is Paccar Parts' 18th PDC, increasing global capacity to more than 3.4 million sq.-ft., of warehouse space. Each PDC is strategically located to provide industry-leading delivery times to more than 2,300 Kenworth, Peterbilt and DAF dealers and TRP retail locations worldwide. Paccar Parts' PDCs use advanced technologies and innovation to increase operational efficiency, including stock-picking equipment with built-in weigh scales, voice-directed picking technology and an automated banding conveyance system to boost order fulfillment.
"The strategic location of the Louisville PDC expands our dealer reach and reinforces our commitment to world-class service in aftermarket parts distribution. We take pride in upholding our core values of providing customers with the highest product availability, best customer experience and unmatched value in the industry," says Laura Bloch, Paccar Parts general manager and Paccar vice president.
The Louisville PDC features warehouse air conditioning to provide a comfortable working environment to employees. The facility also includes a 50-person training room and an interactive "Paccar Parts Experience" that showcases the company's world-class distribution network, industry-leading products and services to visitors. A 3-D model of the distribution center highlights the innovative technologies used to provide superior levels of customer service, the company adds.