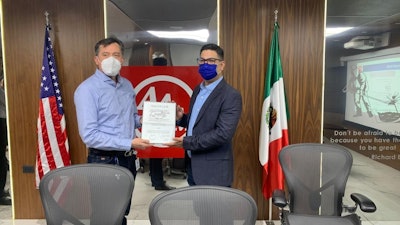 Daimler Truck North America (DTNA) Monday announced the 39 recipients of its 2021 Masters of Quality Supplier award.
The award honors the top components and services suppliers to Freightliner and Western Star trucks.
"In our belief, the Masters of Quality award recipients represent the finest of the supply base, providing reliable delivery service through the North American commercial vehicle manufacturing industry," says Jeff Allen, senior vice president of operation and specialty vehicles, DTNA. "These companies have been instrumental in helping us deliver quality products to our customers for decades."
DTNA states the annual program recognizes outstanding suppliers that have received high scores based on their quality, delivery, technology and cost performance as measured on a Balanced Scorecard basis. These suppliers demonstrate dedication to continuous improvement of the quality of their products, support to DTNA and overall performance.
"The dedication to quality and on-time delivery has never been more important than during these current times. Our DTNA supply base continues to go the extra mile, which makes it possible for DTNA to support our customers who keep the world moving," adds Carsten Kirchholtes, general manager of procurement and supply chain management, DTNA. "We are pleased to recognize this year's Masters of Quality award recipients and are honored by their dedication and partnership."
Among this year's winners are ConMet, who earned its 32nd award for its Monroe, N.C., facility, and Axalta Coating Systems, a 23-time winner for its Charlotte, N.C., facility. To see the full list of winners, check out the DTNA website.