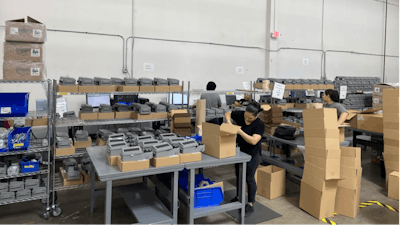 Phillips Connect hit a milestone this month, delivering its 150,000th smart trailer gateway on Oct. 14, creating significant productivity, safety, and cost savings gains for fleets using its cutting-edge transportation technology and generating an unparalleled level of actionable data from its Connect1 platform. Phillips Connect has also shipped more than 1 million sensors that link up to its cutting-edge gateways.
Bundled with advanced GPS and geofence location services, the Phillips Connect gateways, including its Smart7, StealthNet, and SolarNet, operate on the open source Connect1 platform, giving fleets all the data they need in one place. Phillips Connect says this gives fleets the power to assess the health of their trailers before and during a trip, and to analyze trends to make smarter decisions about their overall equipment needs.
[RELATED: Geotab adds Phillips Connect solutions to marketplace]
Fleet recognition of the Phillips Connect total trailer monitoring approach has resulted in 40 percent year-over-year growth for the company. The current milestone was reached after a record third-quarter when the company shipped over 36,000 devices to some of the largest and most forward-looking fleets in North America, the company says.
"This milestone is much more than just a big number," says Rob Phillips, founder and CEO. "There are still a few 'basic GPS' telematics companies that have a larger install-base than we have, but we're so much more than a 'where's my trailer' company! We've fought hard to successfully demonstrate that, and the market is listening. Our fast growth represents a huge shift in trucking, where the top fleets are now profiting from the value we've created by moving past basic GPS and into full smart-trailers. And they're spreading the message about the impact we're making."
Philips Connect says typical benefits that have created faster return on investment spent from fleets are the result of improved overall trailer health, a dramatic increase in tire life, lower percentages of empty trailers, significant increase in detention revenues, and accurate utilization data. This leads to right-sizing fleets and avoiding the need to purchase additional hard-to-get and expensive new trailers, the company adds.