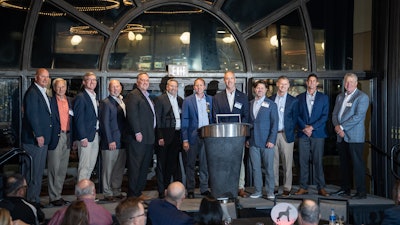 Great Dane recently recognized its top supplier partners during the eighth Annual Supplier Summit and Awards in Savannah, Ga.
The 2022 Supplier Awards recognize a range of suppliers across the country, who provide key components to produce Great Dane's industry-leading dry, flat, and refrigerated trailers and truck bodies, the company says.
"We rely on our shared partnerships, at times spanning decades, to meet the needs of the transportation industry," says Great Dane President Dean Engelage. "We join together to continue that legacy of open dialogue to elevate our manufacturing environment in what looks to be a year full of growth and opportunities."
[RELATED: Two Great Dane plants recognized for safety]
During the event, Great Dane manufacturing leaders shared a look at the year ahead, thanking the gathered supplier network for their commitment to quality during a challenging year for the transportation industry. Through it all, Great Dane and its partners continue to drive forward, working together to deliver the high quality products and services that move goods across the country.
"This has been extremely tough year for all manufacturing companies. While the path forward does not look much easier, it is thanks to the partnerships we enjoy today which will be critical in accomplishing what lies ahead of us," says Brian Sage, Great Dane executive vice president of manufacturing. "We are grateful to have an outstanding supply base and many key suppliers who had to make tough decisions this year and who went to great lengths to do whatever it took to deliver the components our manufacturing teams depend on."
Great Dane says its supplier awards recognize excellence in a range of categories including flatbed and refrigerated suppliers, along with large and small suppliers, and service and quality excellence. Winners have demonstrated an ongoing commitment to excellence, quality, and service in supplying Great Dane's manufacturing network with the components needed to build high quality trailers and truck bodies across the nation.
The company says this year's supplier winners were as follows:
Flatbed Supplier of the Year: Webb Wheel Products
Refrigerated Supplier of the Year: Dow Chemical
Large Supplier of the Year: Accuride
Service Supplier of the Year: Thyssenkrupp Materials (Ken-Mac Metals Division)
Small Supplier of the Year: Ryadon, Inc.
Quality Excellence Award: Rockland Flooring