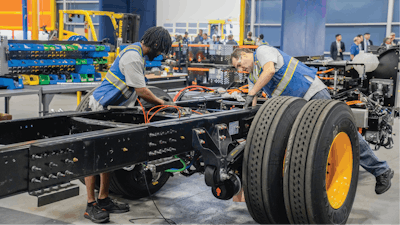 Blue Bird Corporation has celebrated the grand opening of its Electric Vehicle (EV) Build-up Center on the grounds of the company's main U.S. manufacturing plant in Fort Valley, Ga.
Blue Bird transformed a nearly 40,000 sq.-ft., facility to meet increasing demand for electric school buses. The opening marks an important milestone as the company continues to expand its electric school bus production capacity from 4 to 20 vehicles a day.
U.S. and Canadian school districts are increasingly transitioning their bus fleets to electric, zero-emission vehicles to reduce harmful greenhouse gas emissions, improve student and community health, and save on rising fuel costs. School districts continue to benefit from significant public funding sources to accelerate the adoption of electric school buses and the supporting charging infrastructure. Presently, there are more than $10 billion in federal, state, provincial, and local funding earmarked for zero- and low-emission school buses. This includes the Biden Administration's Bipartisan Infrastructure Law (BIL), which provides a total of $5 billion over five years for clean school bus transportation.
"Based on the historic Bipartisan Infrastructure Law alone we anticipate thousands of additional electric school bus orders valued at an estimated $1 billion over five years," says Phil Horlock, president and CEO of Blue Bird Corporation. "Our new EV Build-up Center reflects Blue Bird's steadfast commitment to school districts across the U.S. and Canada to meet increasing demand and deliver clean, safe, and reliable student transportation when they need it."
Blue Bird's EV Build-up Center is part of a multi-million dollar investment in the upgrade of Blue Bird's Fort Valley, Ga., manufacturing site. The new facility will feature a dedicated assembly line for electric school buses. Highly-trained technicians will install electric batteries and other components to turn the vehicles into emission-free electric school buses, the company says.