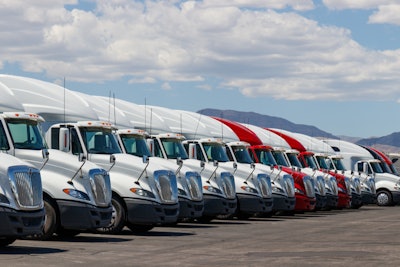 The Environmental Protection Agency (EPA) announced Tuesday the first new emissions guidelines for heavy-duty vehicles in more than 20 years. The new guidelines would cut nitrogen oxide emissions by 48% by 2045 and take effect with the 2027 model year.
"Seventy-two million people are estimated to live near truck freight routes in America, and they are more likely to be people of color and those with lower incomes. These overburdened communities are directly exposed to pollution that causes respiratory and cardiovascular problems, among other serious and costly healthy effects," EPA Administrator Michael S. Regan says. "These new standards will drastically cut dangerous pollution by harnessing recent advancements in vehicle technologies from across the trucking industry as it advances toward a zero-emissions transportation future."
The EPA considered two proposals. Option one would reduce emissions by 90% by 2031. Option two would reduce emissions by 75% for 2027. The adopted rule is not as strict as either one of those, which were heavily lobbied against by the trucking industry and others. The agency worked with the trucking industry as well as impacted communities, environmental organizations and others, it said.
"The Truck and Engine Manufacturers Association has a long history of working collaboratively with EPA to inform the development of stringent regulations and policies that achieve cleaner air and healthier communities," says Truck and Engine Manufacturers Association (EMA) President Jed R. Mandel. "Those efforts have produced incredible technological achievements resulting in near-zero levels of NOx and PM emissions and improved fuel efficiency from today's diesel engines. Throughout the current regulatory process, EMA engaged with EPA by providing data and insights to help ensure the agency had a science-driven basis to finalize a feasible, cost-effective and market-acceptable final rule."
American Truck Dealers (ATD) warned that the new regulations could bring higher costs to American consumers.
"With inflation still at a 40-year high, this rule imposes between $39 and $55 billion in new regulatory costs on the American economy between 2027 and 2045," ATD Chairman Scott McCandless says. "Consumers will suffer the inflationary effects of the EPA's rules by paying higher prices for food, clothing and other consumer products that travel by truck."
[RELATED: ATD's Laura Perrotta discusses government regulation developments]
The association supported Sen. Joni Ernst, R-Iowa, and 16 other Republican senators when they penned a letter to the EPA earlier this year supporting a less-stringent ruling. Opponents of the most-strict guideline said it would raise the price of diesel trucks by an average of $42,000 and increase operating costs, harming the market and jobs across the country.
"The trucking industry has already prioritized healthier communities by deploying newer, cleaner and safer CMVs," a letter penned by Sen. Joni Ernst, R-Iowa, and 16 other senators says. " 'Option 1' would place that priority at risk, along with thousands of well-paying jobs in Iowa and across the nation."
ATD argues that modern trucks are cleaner than older models, and this ruling will only result in more expensive trucks that will keep older, more dirty trucks on the road longer.
"The best way to improve air quality is to incentivize fleet turnover and get pre-2010 trucks off the road," McCandless says. "The implementation of the rule will raise the cost of some trucks by tens of thousands of dollars; as prices rise, new truck adoption will be delayed and older, less green trucks will remain on America's roads."
The Diesel Technology Forum, a nonprofit dedicated to raising awareness about the role of diesel engines, equipment and fuels, says a current generation truck emits 1/60th of the emissions of a 2000 model truck and about 53% of commercial trucks in operation today are in this newest generation.
"The further improvements in diesel engines anticipated in the outcome of this final rule and the ability of truckers to invest in new trucks will be fundamental to ensuring progress toward meeting both local clean air and national climate goals," the Diesel Technology Forum says in a statement. "Without continued turnover in the fleet, older generations of technology with relatively higher emissions will stay in service longer, thereby delaying benefits to disadvantaged communities and contributing to worse air quality all around the country."
Truck manufacturers across the board are working on solutions for cleaner, more environmentally friendly trucks.
"Navistar is investing in technologies that will drive toward a zero-emission future," the company says in a statement. "Navistar has worked collaboratively with the U.S. Environmental Protection Agency (EPA) on the technical details of a new national NOx rule that targets technical feasibility and market acceptance. With our shared goal of decarbonizing the transportation industry, we look forward to reviewing the EPA's heavy-duty NOx regulation in its entirety to understand its full impact."
Daimler Trucks North America says it supports the plan as well.
"EPA's Clean Trucks Plan sets challenging targets for our medium- and heavy-duty engines and vehicles," says Sean Waters, vice president of product compliance and regulatory affairs at DTNA. "We're ready to rise to meet the technological hurdles of the plan and help reduce emissions from conventionally powered vehicles even further. This is an important and intermediary step on our pathway to the goal of offering exclusively CO2-neutral (in driving operation) medium- and heavy-duty commercial vehicles by 2019."
In addition to the nitrous oxide limitations, the ruling also extends warranties from 100,000 miles to 450,000 miles and the useful life of heavy-duty vehicles from 435,000 to 650,000 miles.
The EPA decision is the first step in the agency's Clean Trucks Plan, a series of regulations over the next three years to reduce pollution from trucks and buses and advance a transition to zero emissions. The EPA will release proposed Phase 3 greenhouse gas standards for heavy-duty vehicles in 2023. It is also considering three pending waiver requests from California, which wants more stringent rules and a more rapid phase-out of diesel engines.
This story was updated.