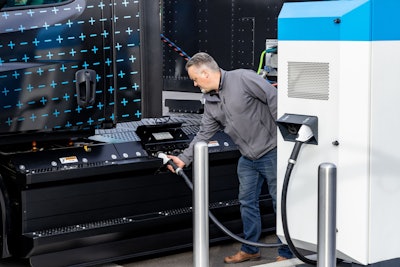 NATSO, representing America's travel centers, truck stops and transportation energy retailers and SIGMA: America's Leading Fuel Marketers told Congress today that fuel retailers are critical to the nation's supply chain.
As critical pieces of that infrastructure, the groups asked Congress to incentivize retailers' investments in alternative fuels. They say this approach would enhance fuel supply options and limit exposure to disruptions such as hurricanes or refinery outages.
"Policymakers have had challenges navigating the balance between encouraging investment in alternative fuels such as electricity or biofuels, without excessively disrupting today's fuel markets and in so doing harm the broader supply chain," says NATSO and SIGMA Executive Vice President of Government Affairs David Fialkov. "You can have an efficient fuel distribution system and still have supply chain problems, but you simply cannot have a well-functioning supply chain without an efficient fuel distribution system. That's the role we play. It is critically important to recognize the efficiencies of the liquid fuel distribution system and, to every extent possible, replicate those efficiencies as the country transitions to future fuels."
[RELATED: Nikola, Voltera partner for hydrogen station infrastructure]
NATSO and SIGMA represent 80% of fuel sold at retail. The groups say market reforms are needed to allow businesses to profitably invest in electric vehicle charging stations and other infrastructure. EV charging point programs such as the National Electric Vehicle Infrastructure Program should encourage states to reexamine regulations that are incompatible with public EV charging transactions.
"Biofuel and renewable fuel incentives work," Fialkov says. "They helped our industry build and maintain a competitive marketplace, maximize the climate benefits of renewable fuels and minimize fuel supply disruptions and inflationary consequences for consumers."

The groups also encouraged flexibility in Department of Transportation Buy America regulations and highlighted market challenges created by preferential treatment for sustainable aviation fuel (SAF) over renewable diesel and biodiesel.
"Preferential tax treatment for SAF will encourage producers to make SAF rather than the longstanding renewable fuels already used in ground transportation, shortening diesel supply and increasing the cost of all goods moved by truck," the groups say in a news release. "Consumers ultimately will be forced to pay more for fewer environmental benefits as emission reductions are transferred away from trucking to the aviation sector."
[RELATED: Noregon, ClearFlame collaborating to support alternative vehicle service]
NATSO and SIGMA also voiced support for the Right to Equitable and Professional Auto Industry Repair (REPAIR) Act.
"In effect, truck manufacturers have become the gatekeepers of the advanced information necessary to repair or supply parts to commercial motor vehicles, increasing the cost of repair and limiting the flexibility to quickly return these vehicles to the road," Fialkov testified. "Passing the REPAIR Act will provide independent repair shops, including some of our own members, with access to the diagnostic information needed to identify and repair mechanical issues with commercial motor vehicles. The REPAIR Act will promote choice and competition while also ensuring commercial motor vehicles return to the road as expeditiously as possible."
Fialkov also testified on topics including:
Advancing the Truck Parking Safety Improvement Act from Rep. Mike Bost, R-Illinois, which would encourage state transportation departments to partner with the private sector to expand truck parking capacity.
Addressing labor challenges such as a driver shortage. Fuel retailers serve professional drivers and fleets and also maintain their own fleets.