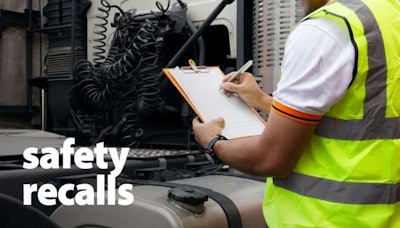 The following safety recalls were issued Monday by the National Highway Traffic Safety Administration (NHTSA).
Altec Industries is recalling certain 2017-2018 AT37/41/48M, AT41P, AT48S, L37M, L42A, and TA40 aerial device vehicles. The rotation bearing fasteners may experience stress corrosion cracking. Cracked rotation bearing fasteners may break, causing separation of the pedestal and turntable, increasing the risk of death and/or jury. NHTSA says potentially 120 vehicles are affected by this recall.
Daimler Vans USA is recalling certain 2019-2020 Mercedes Benz Sprinter and Freightliner Sprinter vehicles. The hydraulic power steering return line hoses may detach and cause hydraulic fluid to leak. A hydraulic fluid leak may cause a sudden loss of power steering assist, increasing the risk of a crash. NHTSA says potentially 4,444 vehicles are affected by this recall.
General Motors is recalling certain 2014-2016 Chevrolet Silverado 1500, 2015-2016 Chevrolet Tahoe, and 2014-2015 GMC Sierra 1500 vehicles that may have received an incorrect replacement tensioner cable assembly as part of a previous recall remedy or a subsequent repair. The flexible steel cable connecting the driver's seat belt to the outboard side of the seat may be repeatedly bent over the seat side shield as the driver enters and exits the vehicle causing the cable to fatigue and separate. A broken pretensioner cable reduces the effectiveness of the driver's seat belt, increasing the risk of injury. NHTSA says potentially 2,568 vehicles are affected by this recall.