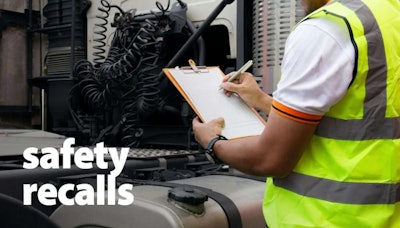 The following safety recalls were issued Monday by the National Highway Traffic Safety Administration (NHTSA):
Altec Industries is recalling certain 2021-2023 DT85 Digger Derricks. The Boom pressure limiter may allow the boom to lift loads above the rated capacity and over the Hydraulic Overload Protection (HOP) setting. Lifting loads above the boom capacity could overload the unit and cause instability, increasing the risk of injury. NHTSA says potentially 44 units are affected by the recall.
Dennis Eagle is recalling certain 2020-2023 ProView vehicles. The heating, ventilation, and air-conditioning (HVAC) electrical circuit may overheat. An overheated electrical circuit increases the risk of a fire.
E-One Incorporated is recalling certain 2022-2023 Cyclone N and Typhoon N vehicles. The electronic sensor for the aerial device may fail and not display accurate data on the angle of inclination. Without accurate display data, the aerial device may inadvertently contact the cab and increase the risk of injury to the operator. NHTSA says potentially 24 units are affected by the recall.
Forest River is recalling certain 2022-2023 Rockport work trucks. The trailer brake controller may have been incorrectly wired. An incorrectly wired brake controller can result in a loss of brake function, increasing the risk of a crash. NHTSA says potentially 63 units are affected by the recall.