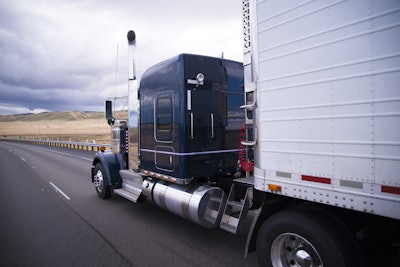 More than 1,500 government officials from across the country sent a letter to Congress asking lawmakers to oppose increases in truck size or weight.
The letter, "Bigger Trucks: Bad for America's Local Communities," was organized by the Coalition Against Bigger Trucks, a national nonprofit that advocates for transportation polices.
[RELATED: Increasing gross vehicle weight and the future of transportation]
"Local communities and our residents are what drive this country. We work every day to make sure the needs and safety of our residents are met," the letter says. "Allowing heavier and longer trucks will most certainly set us back in our efforts. Much of our transportation infrastructure that connects people to jobs, schools and leisure is in disrepair, in part because local and rural roads and bridges are older and not built to the same standards as interstates. Many of us are unable to keep up with our current maintenance schedules and replacement costs because of underfunded budgets."
The officials say heavier, longer tractor-trailers would exacerbate the problem.
"We cannot afford this and members of Congress need to hear our concerns," says Berks County, Pennsylvania, Chairman Christian Leinbach, who also serves on the board of directors of the National Association of Counties. "Trucks do not load and unload on interstates. These trucks find their way on to local roads and bridges, whether it is for meals and gas or to deliver their cargo. This impacts us all."
Congress is considering several bills that address tractor-trailer weight limits.
The CARS Act (H.R. 2948), sponsored by Rep. Lance Gooden, R-Texas, would provide a 10% weight tolerance for stinger-steered automobile transporters. That bill cites heavier hybrid and electric passenger cars, which car haulers are obliged to transport to market. Weight limits now force haulers to make multiple trips to get these cars to dealers.
H.R. 3318, sponsored by Rep. Eric A. "Rick" Crawford, R-Arkansas, would allow a 10% weight tolerance for dry bulk carriers to allow for the shifting of cargo in vehicles loaded at or below federal limits during transit.
H.R. 3447, sponsored by Rep. Greg Stanton, D-Arizona, would provide for a 2,000-pound weight exemption for hydrogen powered vehicles. This is similar to an exemption already in place for battery-electric and natural gas trucks.
The SHIP IT Act, H.R. 471, sponsored by Rep. Dusty Johnson, R-South Dakota, would create a special permit for certain overweight vehicles based on a major disaster or Department of Transportation declaration of an emergency, be it natural, financial or supply chain. It would also establish a pilot program allowing states to issue permits for qualifying vehicles with six axles or more operating at greater than 80,000 pounds gross vehicle weight on a state's interstate system. The legislation would also exempt battery weight from the gross vehicle weight for certain commercial vehicles.
CABT also says bigger-truck proponents are putting language in must-pass legislation, such as the farm bill and appropriations bills.
"These bills are too important to be put at risk by including such a deeply controversial issue," the group says, going on to cite studies by the Department of Transportation and others that show local bridges it says are at risk from bigger trucks and the cost to replace those bridges. It points out that no weight increase legislation includes additional funding for infrastructure.
"Let me be clear -- heavier trucks damage bridges. I have spent my entire professional career building and maintaining infrastructure, specializing in bridges," says Buchanan County Engineer and study author Brian Keierleber. "And for those who think posting a bridge solves the problem of keeping these heavier trucks from crossing, it does not. The only time posting works is if I am standing on the bridge, in front of the truck"