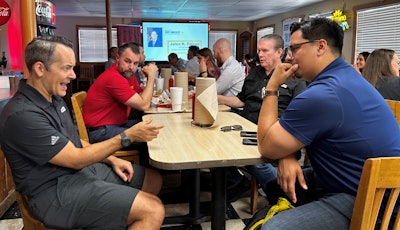 The Aftermarket Auto Parts Alliance discussed the REPAIR Act with Jalen R. Falcon, the district director for U.S. Rep. Tony Gonzales, R-Texas, on Wednesday.
"Right to Repair is and remains one of the most crucial and important issues facing our industry," says JC Washbish, vice president of sales and marketing at the Alliance. "We are appreciative that Mr. Falcon joined us today to hear our voice. We look forward to the open communication and continued support of the REPAIR Act."
The Right to Equitable and Professional Auto Industry Repair Act, H.R. 906, would preserve access to high quality and affordable vehicle repair while ensuring owners have a choice and access to vehicle data.
[RELATED: MEMA offers insights on debt ceiling, REPAIR Act]
"Texas is a huge state and the 23rd District is the largest district in Texas. Texans drive long distances in this district. We work on ranches and farms in this district. We have some of the country's largest military bases, hospitals and school networks in this district," says Washbish. "Our 23rd District is dependent on cars and trucks to keep it moving. We are asking Rep. Gonzales to support the REPAIR Act, affording Texans the right to choose where and how their vehicles are serviced."
Washbish encouraged Falcon to ask Rep. Gonzales to join the Auto Care Caucus in the 118th Congress next session. By joining the caucus, the Alliance says, a legislator signifies the industry and its issues are important to them.
The REPAIR Act is sponsored by Rep. Neal Dunn, R-Florida. It has 36 cosponsors from both sides of the aisle.
MEMA also backs the bill. The group says it believes that consumers, including heavy-duty owners, have the right to go to the repair shop of their choosing. It says its members hold that vehicle owners should not be forced to change their vehicle maintenance habits because of increased technological complexity and data access issues.

The aftermarket plays an important role in all vehicle repair, MEMA's Paul McCarthy says, and has become an important alternative to dealer channels.
"Safety should not be based on your economic standing," he says.
In order to get the bill passed, organizations such as MEMA says it needs everyone's help. At a CVSN panel in June, Tommy Hickey with the Right to Repair Coalition says people need to speak up.
"Having [manufacturers] as gatekeepers of vehicle information is bad for consumers," he says. "Even if you don't have a shop, we're all part of this ecosystem ... . If a taxi driver can't get his car fixed where he wants and a truck owner can't go where they want, that's going to drive up costs for everyone."