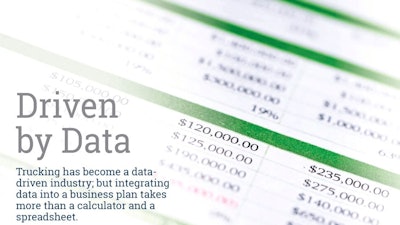 [This article was originally published in 2019 by Trucks, Parts, Service. It has been updated to include more timely information.]
Understanding and leveraging data, along with strategic planning, are key factors to business success. Companies that know their business, industry and customers have a leg up when going to market against uninformed competitors.
But recognizing the importance of data and understanding how to actually use data are two different things. Not all data is valuable to everyone, but all data is valuable to someone. By better understanding the data that exists in the trucking industry, truck and trailer dealers and parts and service businesses can increase their sales, efficiency and bottom-line profitability.
Across three articles, TPS has investigated how aftermarket and dealer operations interested in increasing their data usage can find, evaluate and integrate quality data into their business decision making.
Part I: Data acquisition
Where do you find quality data?
Our data series starts on a positive note. Few industries have more valuable, actionable and obtainable data than trucking. For dealers and aftermarket operations eager to up their data game, unearthing data to use in one's business begins by identifying the industry's top data sources.
In most cases, a great place for any dealer or aftermarket business leader to start looking for quality data is in-house.
Thanks to the growing adoption of customer relationship management (CRM) platforms and the added robustness of dealer/distributor management systems (DMS), many dealer and aftermarket businesses are already producing mounds of raw data. Furthermore, many DMS providers say they are actively working to enhance their user experiences to make this proprietary data more accessible and consultative to their dealer and aftermarket customers.
Karmak recently bolstered its data reporting capabilities and introduced a predictive algorithm within its Fusion DMS specifically to support data-driven users, says Vice President of Business Solutions Adam Madsen.
"Data has become a growing area of focus for us as it is becoming clearer that many of our customers view it as their competitive edge," he says.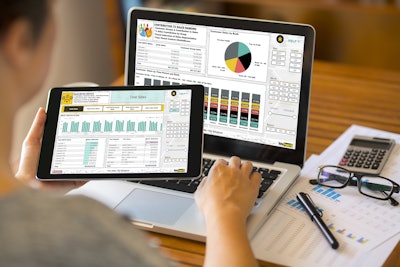 At AutoPower, President Mike Mallory says similar thinking was the genesis behind AutoPower BI Sales Analysis, a new cloud-based business intelligence tool the company introduced to its distributor customer base in March.
"Business systems store a lot of data but getting to that information has always been hard to do," he says. "We are trying to make it easier to organize that data so it is easier for [customers] to use."
Another valuable data source is supplier and OEM partners, which often have regional and national sales data available that can supplement a dealer's or distributor's internal sales information. While some suppliers provide this data unprompted and others at a distribution partner's request, nearly every business selling a product in the heavy-duty trucking industry has quality data that can be valuable to a retail business.
Solutions providers have worthwhile information as well.
At Noregon, where the company's JPRO all-makes diagnostic solution is among the most used tools in the medium- and heavy-duty service channel, Chief Technology Officer Dave Covington says the company has spent much of the last decade building out products to meet the industry's growing data demands.
Noregon's most popular data solution is its subscription-based diagnostic tool management monthly reports, which Covington says offer users insight into fault code trends and the general health of equipment diagnosed using JPRO.
[RELATED: iTRG has improved its national insurance program for repair shops]
Paul Moszak says similar reports are available for MOTOR's FleetCross users. While Moszak, the company's vice president and heavy-duty evangelist, says MOTOR is still in the early stages of building an advanced business intelligence tool to support these reports, he says users can still glean quality information regarding parts search trends and frequency from its raw usage data.
Moszak says MOTOR's current reports are specific to end users, but he says as its analytics capabilities grow, so too will the complexity of these data solutions.
"We are trying to create products that have strong benefits for all of our customers," he says.
Data also can be found outside of a dealer's or distributor's business and partner base. Trucking and commercial transportation are two of many industries that support a number of research firms and third-party data providers that specialize in acquiring and distributing actionable data.
Interestingly, three of the industry's most well-known research and data operations — ACT Research, FTR Transportation Intelligence and MacKay & Company — all have histories that begin with Cummins.
ACT and FTR were independently founded by former Cummins market research professionals in the 1980s, while Stu MacKay founded his business after leaving Fleetguard (now Cummins Filtration) in 1968.
Despite their similar origins, each operation specializes in different data segments and offer unique products to the industry.
ACT has established itself as a market leader in equipment production analysis, forecasting and population evaluation. FTR also has kept its finger on the pulse of truck production while expanding its research into larger transportation markets, such as global shipping and rail. MacKay & Company has found its home in the aftermarket, where in addition to its co-ownership of Heavy Duty Aftermarket Dialogue, the business also provides market research for vehicle and component manufacturers, multi-client industry projects, industry surveys and more.
There are other industry research organizations in the market as well. Some, such as IHS Markit, operate in more than one vertical, while others, like Commercial Motor Vehicle Consulting (CMVC), were founded specifically to fill a data need in the commercial vehicle space.
Though each firm's data is unique, most of their goals are the same: to serve the trucking industry with valuable, high-impact market data.
"Every company who participates in this business is interested in data, but not every company has the resources and internal capabilities to do that data mining and analysis on their own," says Jim Meil, principal, industry analyst, ACT Research. "We provide expertise for those smaller players in a very cost-effective way."
CMVC President Chris Brady agrees, noting he founded his business on a similar principle in 1999. Referring to the dealer and aftermarket channels in particular, he adds, "Many of these organizations really don't have anyone who works with data on a consistent basis. They don't have the resources, or can't justify the resources, to have someone on hand working with raw data."
It's why these research firms, like the aforementioned DMS providers, are broadening their data solutions. The trucking industry's desire for quality business data is on the rise.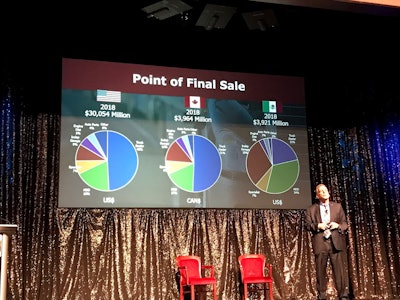 "I think people in our industry are becoming more open to having more resources available to understand their businesses," says John Blodgett, vice president, sales and marketing, MacKay & Company. "One thing a dealer and distributor has and doesn't want to lose is its relationship with its customers. Which means even if you really think you know a market, it is helpful and, more importantly, informative to have data to support [what you know]."
[RELATED: An autonomous truck aftermarket thought experiment]
Blodgett's statement leads to another valuable and often overlooked data source: fleet data. There is a substantial amount of motor vehicle carrier data publicly available through the Federal Motor Carrier Safety Administration (FMCSA) and National Highway Transportation Safety Administration (NHTSA). However, unlike the sources mentioned above, which organize, classify and contextualize their data before releasing it, government-compiled carrier and owner-operator data is decidedly less polished — making it difficult to decipher and use without assistance.
Fortunately for dealer and aftermarket operations, the trucking industry also has businesses that specialize in carrier data acquisition and dissemination.
These organizations, such as RigDig Business Intelligence, owned by TPS publisher Randall-Reilly, collect and then combine publicly available asset ownership, performance and corporate financial data for all licensed trucking entities into a single database of trucking fleets that can be used by dealers and aftermarket operations to identify new sales and service prospects and learn more about existing fleet customers.
Adam Morrison, Randall-Reilly senior client success manager, says he loves demonstrating the RigDig BI database to dealer and distributor customers because every new search generates at least one potential new sale.
"I'll ask for a zip code and do a radius search around [their] office," he says. "The first three, four or five customers they might be doing business with but, as we keep going, every new [fleet] name we can show them is a missed opportunity."
When it comes to data acquisition, Morrison says that should be the ultimate goal. It doesn't matter where the data comes from so long as it provides value. He says good data answers questions that haven't even been asked.
"One of my favorite lines is, 'You don't know what you don't know,'" he says. "[Data] helps you make better decisions and, ultimately, that translates to more sales."
Part II of our series on data analyzes best practices for evaluating data to determine its usefulness within a dealer or aftermarket operation and can be found HERE.