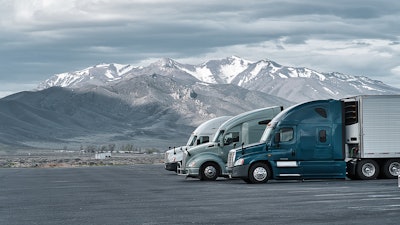 Though 2022 build slots continue to dwindle, new truck orders saw a minor increase in June. ACT Research reported preliminary Class 8 orders of 15,500 units and FTR reported 15,000 units.
On a month over month basis, FTR says June was 13 percent better than May but down 36 percent compared to June 2021. Class 8 orders have totaled 260,000 over the last 12 months.
In reporting June's totals, FTR states orders continue to track in a restricted range, with June's total being in line with the prior three months. The company believes OEMs are still working to increase build rates but semiconductors, tires, and other key components remain in short supply and continue to limit production.
[RELATED: Recession trending closer to likely reality, ACT reports]
"The June number is positive in the sense that all OEMs entered orders indicating some optimism about improved future supply chain performance. The current order volume still understates the tremendous demand for new trucks," says Charles Roth, analyst, commercial vehicles for FTR.
ACT's Eric Crawford, vice president and senior analyst, expresses similar beliefs.
"Considering Class 8 backlogs stretch into 2023, that there is still no clear visibility on the easing of all things shortage, and the increasing market jitters about an impending recession, June's net orders were quite solid," he says.
Crawford notes ACT's seasonally adjusted orders for June were 18,300 units, the strongest seasonally adjusted total since March and in line with the January through May adjusted average of 18,500 units. "Despite broader macro uncertainty about Russia/Ukraine, China, interest rates, and potential recession, the prevailing theme in Class 8 remains exceedingly durable: long backlogs and supply chain-constrained production continue to keep new orders trending within a narrow range."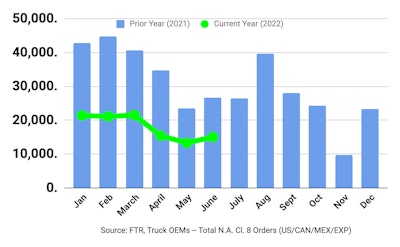 Roth adds OEMs are likely to maintain order levels in their current range until their supply chains normalize. With large numbers of fleet commitments for 2023, he says supply chain delays continue to constrain build rates.
"As a result of replacement demand, fleets still need a considerable number of new trucks right now. Industry capacity remains extremely tight, resulting in elevated freight rates. The carriers have freight to haul and funds available for new trucks, but OEMs remain limited due to parts shortages. Also, large fleets are now running vehicles beyond their trade-in cycles and need to trade in older trucks, which will result in increased replacement demand in 2023," Roth says.
In the medium-duty space, preliminary Class 5-7 orders for June landed at 17,800 units.
"June demand for medium-duty vehicles was a bright spot," says Crawford. "Classes 5-7 orders rose sequentially, and when seasonally adjusted, data represents the third highest seasonally adjusted total of the year, thus far."