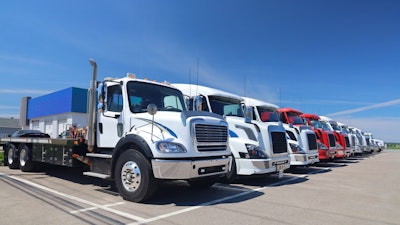 According to the latest release of the State of the Industry: U.S. Classes 3-8 Used Trucks, published by ACT Research, used Class 8 retail volumes (same dealer sales) were 8 percent higher month over month in May.
Longer term, volumes were down 38 percent year over year, while average price and miles were each down 2 percent compared to April, but average price rose 64 percent year over year. Average mileage was just 3 percent higher year over year and average age rose slightly from April at 2 percent.
"Same dealer retail sales of used Class 8 trucks surprised to the good in May, and the nature of the surprise stems from the typical two-month, or so, lag between new truck sales and corresponding used truck sales," says Steve Tam, vice president at ACT Research. "Looking back at January and February, new truck sales were lackluster at best. Unit sales increased in March, so it is possible that the new-used lag has shortened a bit.
"However, with the plethora of supply-chain issues still in play, that would be a tall order. And that says nothing of what is happening in the spot freight markets, a favorite customer segment for the used truck market."
Tam says also impeding progress are record-high fuel prices, a bane for truckers of all stripes, but especially owner-operators.
"Summing it all up, there appears to still be a large amount of pent-up demand for trucks that is getting sated at a very moderate rate. For that reason, longer-term comparisons are much more in line with reality," he says.