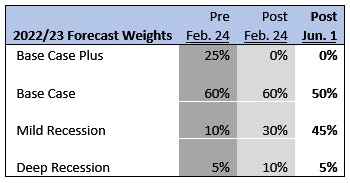 ACT Research reported in its Commercial Vehicle Dealer Digest Thursday that a recession could be imminent.
The company says its analysts now think the probability of a mild recession is nearly as likely as that of their base-case scenario, and that the odds of a recession materializing, in some form or fashion, are essentially 50/50 relative to their slowing top-line growth into a modest freight recession base case.
[RELATED: Class 8 tractor dashboard slips again as business conditions evolve]
"With the current head of steam that includes healthy consumer and business balance sheets, strong employment demand, and pent-up manufacturing sector activity, this inflation driven economic slowdown is on one hand somewhat unique. On the other, traditional recession predictors are in play: Fed rate hikes, high energy prices, negative exogenous events and falling equity valuations come to mind," says Kenny Vieth, ACT Research president and senior analyst.
"Some have called the current period of turbulence, unprecedented, and there is a growing consensus around the notion that we promote here: A slowdown is coming. We don't know if it will be shallower or deeper."
Despite that overall market concern, Vieth says ACT's assessment for the equipment market for the next six months remains stable with earlier estimates.
"At this point, still strong carrier profitability and pent-up demand mean that this year's expectations for commercial vehicle demand remain essentially unchanged, with full-year production volumes still primarily dependent on supply-chain outcomes," he says.