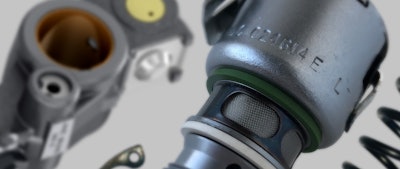 Jacobs Vehicle Systems
Jacobs Vehicle Systems recently upgraded the company's parts and service website to better provide aftermarket support to help fleets, OEMs and owner-operators keep their engine brakes operating at peak performance.
The site can be found here: https://www.jacobsvehiclesystems.com/service-parts-support. The company says navigation is easy to find a wealth of information on:
How to service and install a genuine Jake Brake.
Accessing parts and service literature, covering spec sheets, tune-up kit information, solenoid replacement, installation manuals and more.
Troubleshooting and technical information.
Cross-referencing Jacobs and OEM part numbers and purchasing Jake Brake parts through all leading global engine OEMs and authorized service centers and independent distributors.
Learning how an engine brake functions.
"Our new website provides our customers throughout the world with easy-to-follow information on how to give their Jake Brake the attention it deserves to ensure optimum performance," says Steve Ernest, Jacobs vice president, engineering and business development. "With a Jake Brake, there is no better way to extend the life of service brakes and help promote safe vehicle operation in virtually any commercial vehicle application or vocation.
"At a basic level we want to help service technicians easily cross-reference part numbers where they have a Jacobs' part and number but need an OEM part number in order to source via the OEM. Common components such as solenoids are used across OEM customers, so they can see all of the OEM part numbers and choose where to buy the part without wasting precious time," Ernest says.
Kentucky-based owner-operator Grant E. Sheldon, who has more than 50 years of trucking experience, weighed in on the aftermarket support he recently received from Jacobs: "The tune-up kit for my 2008 Cummins ISX 480-horsepower engine, which had 1.8 million miles on it at the time I overhauled it, had all the necessary parts and was exactly what I needed. I installed it myself, and my Jake Brake is performing as if it were brand new. I am one hundred percent satisfied."