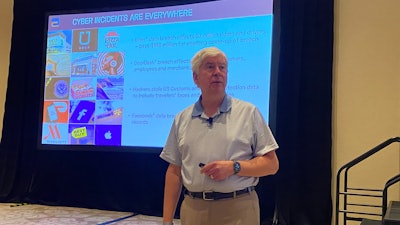 The back row was full Tuesday when SensCy CEO Rick Snyder spoke to distributors at the VIPAR Heavy Duty Family of Companies' IMPACT Conference in Marco Island, Fla., about cybersecurity.
Snyder chuckled at the seating arrangement as he kicked off his remarks, joking when it comes to cybersecurity, "sitting in the back row doesn't mean you're less likely to be attacked."
In fact, he said avoiding an attack is virtually impossible. Unless you want to live in the stone age, cybersecurity is a risk. In attempting to reassure his audience, Snyder said anxiety around cybersecurity is normal. People should be concerned. But while there's no real way to avoid cyberattacks, there are simple things distributors and their employees can do to reduce their risks.
"I'm not here to terrify you, I'm here to help you," Snyder said.
[RELATED: Karmak shares lessons learned after surviving cyberattack]
One thing Snyder quickly tried to get across to his distributor audience Tuesday is that cybersecurity is easy for businesses to overlook. He said distributors specifically are focused on running their operations — they aren't spending their days building digital security.
He said improving cybersecurity shouldn't require business owners and leaders to neglect their operation. Simple tweaks to business operations and technological tools can go a long way, as can training and raising the level of awareness of everyone in a business.
"The only time cybersecurity will be your top priority is if you get hacked," he said. "It's highly likely you won't be able to operate your business during that time."
Snyder said businesses that want to improve their cyber proficiency and enhance their protection can do so through simple, intelligent tweaks that will add layers of protection to their devices and mental reminders to employees.
"You cannot be safe from cyberattacks, but there are things you can do to still have a good life," he said.
Snyder then gave attendees a detailed list of actions to make their companies safer:
Focus on basic cyber hygiene
Establish and share cyber policies
Implement user awareness training
Do phishing exercises
Use strong and unique passwords
Use multi-factor authentication
For remote work, use a virtual private network
Use anti-virus and malware software
Keep your systems up to date – use patching
Scan your systems and the dark web
Monitor threat feeds
Have an incident response plan
Do regular backups
Have cyber insurance
"While some of these actions are investments, others simply require a shift in culture and approach for employees," Snyder said. Cyber hygiene can be as simple as "think before you click" guidance for employees when answering messages and enabling your own IT department to quickly patch and update software whenever necessary so hackers can't attack well-known vulnerabilities.
[RELATED: VIPAR Heavy Duty kicks off IMPACT Conference with organizational update]
Additionally, Snyder said none of these tasks should be too daunting on a daily basis but are essential and should be treated as such. He added employers shouldn't feel guilty about requiring associates to go through training or follow corporate cybersecurity policies. Security training is vital to keeping your business safe and also helps employees learn how to be safe in their personal lives. And that's an added benefit, because so many workers today have access to business resources on personal time.
Snyder also touted his company's SensCy Score — a free 39-question survey that records more than 100 data points from business leaders and creates a custom cybersecurity safety score for their operations. Snyder said the scoring system works like credit reports, with 1,000 as a top score and around 800 qualifying as a "really good score." He advised all attendees to take the survey, noting the only reason to not complete it is "if you don't want to know what your score is."
Most importantly, Snyder said to be vigilant. Hacking has become a business for cybercriminals. They are always hunting for businesses to attack as a method of making money.
"This is tough stuff, but you can be safer if you do the right things," he said.