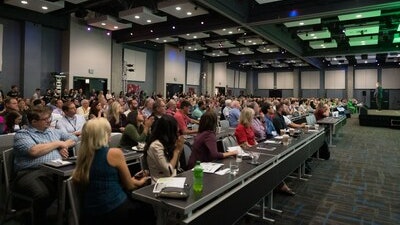 Procede Software recently celebrated record-setting attendance at the 2023 Procede Software Conference.
The company chose this year's conference theme, "Come Together," to reflect the collaborative event format, which brings together stakeholders from across the industry to provide input on the Excede roadmap, exchange best practices, and network.
"Each year, the PSC provides an unparalleled opportunity to listen to, collaborate with, and harness the collective insights of our customers — the people who use Excede every day — as well as our Certified Partners and OEM representatives. With their input, we align our product roadmap to areas that not only enable dealerships to run their businesses more effectively, but also drive advancement across the entire industry," says CEO Larry Kettler. "It was a phenomenal conference, and we are so grateful to everyone who came."
Kettler kicked off the conference with a keynote presentation and company update that reinforced Procede's ongoing commitment to investing in industry, company, and product innovation. Following Kettler on the main stage was Deanna Cocco, chief customer officer, who highlighted the company's continued strategic focus on both customer success and the customer journey. The company says Cocco emphasized the numerous ways the company engages with customers and encourages candid feedback, shared recurring themes, and explained how the company is taking action toward continuous improvement.
[RELATED: Learn more about the 2023 Trailblazer Award, sponsored by Procede Software and Hendrickson]
Next, Eric Liddell, vice president of Product Architecture, took the stage and previewed new features and enhancements that will be included in the upcoming release of Excede. Liddell emphasized the development efforts for the new release are focused on solving tangible challenges that dealerships face in their day-to-day operations, Procede says.
Following the keynote presentations and a video appearance by the Procede Players house band, the conference continued with two full days of highly interactive dealership department- and OEM-specific breakout sessions; an expo featuring Procede's Certified Partners; and signature networking events.
Throughout the expo, Procede says customers had the opportunity to meet with Procede subject matter experts and Certified Partners for Q&A and dedicated product demos. Attendees were also invited to stop by a headshot lounge to have professional headshots taken. The conference concluded with a rockin' closing reception and after-hours live karaoke band.
Next year's PSC is scheduled for Sept. 16-18, 2024, at the Westin San Diego Gaslamp Quarter. Space is limited, and the conference is again expected to sell out early. Procede says customers and Certified Partners interested in attending can add their names to the interest list by contacting [email protected].