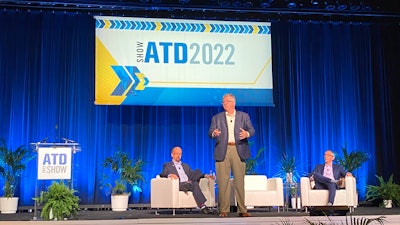 Electric vehicles remained a top talking point but were not the only topic addressed during Saturday's truck technology session at the 2022 American Truck Dealers' (ATD) Show in Las Vegas.
In an engaging discussion led by NACFE's Dave Schaller, panelists Brad Sutton of Cummins and Rob Reich with Schneider also detailed how telematics and connected vehicle technologies available in the trucking industry will soon enable truck fleets and their OEM and dealer partners to use remote diagnostics and data analysis to predict component failures, schedule service events and dramatically reduce downtime.
Also known as prognostics, Sutton says this futuristic approach to truck repair isn't as far away as many might think. In fact, "the future is already here," he says.
[RELATED: New Navistar leader urges ATD members to prepare for EV boom]
Sutton says OEMs and their supplier partners are developing the ability to use data compiled through onboard diagnostics across the North American trucking population to evaluate and determine failure trends for thousands of components on medium- and heavy-duty trucks and trailers. Using this data and performance modeling, Sutton says it won't be long until manufacturers are actively notifying customers up to 100 days before a part may fail and recommending the customer schedule a service event to proactively avoid a breakdown. Sutton says this schedulable service will be a game changer for the trucking industry, which for far too long has lagged the auto sector in its ability to prevent unscheduled downtime.
"Technology enabled uptime will create a digital revolution," he says. "We can take the guesswork out of service."
Sutton adds digital service will have other benefits too beyond reducing downtime. By enabling manufacturers and dealers to diagnose failures before they occur, prognostics will dramatically reduce the amount of triage required by dealer service providers relative to their total number of service events. The advancement also should help improve parts inventory management — if an algorithm identifies a part is likely to fail in three months, that gives a dealer ample time to order a replacement — and free up dealer service shops and their technicians to dedicate more time to more challenging and costly repairs.
Additionally, Sutton says as Cummins' prognostics capabilities improve it hopes to develop tiers of service requirements so when customers are notified of a likely component failure they will also know if the part should be replaced by an OEM dealer or can be replaced in house, and the ideal timeline for each.
"How do we plan ahead of time?" he says.
Carriers are hungry for prognostics too. Reich says the technology will likely strengthen fleets' reliance on their manufacturer and dealer partners because it will enable them to bundle multiple service needs into single appointments and cut down on overall bay time.
Reich also touched on Schneider's investment in heavy-duty Class 8 electric trucks on Saturday, continuing the theme presented by Navistar CEO Mathius Carlbaum in Friday's keynote address.
[RELATED: EMA boss: Trucking needs single regulatory body setting emission standards]
Reich says Schneider's motivation to adopt electric trucks is two-fold. On one hand, pressure from many of its shipping customers to move toward carbon neutrality is driving the fleet to reduce its own carbon footprint. Yet on the other hand, Reich also acknowledges there are use cases for battery electric vehicles (particularly in southern California, where the carrier will domicile 62 Class 8 BEVs by the end of the year) and total cost of ownership for the technology continues to fall.
As Carlbaum urged on Friday, Reich says dealers who want to capture EV sales in the future need to take time now to study the technology and begin the process of adopting the infrastructure necessary to support these vehicles. Specifically, this means connecting with utilities about charging capabilities and determine if any government grants are available to help support the financial impact of EV infrastructure. Reich says supporting EVs today isn't cheap, but costs are steadily falling. And with shipper pressure to reduce carbon emissions only likely to increase in the years ahead, now is the time to learn more.