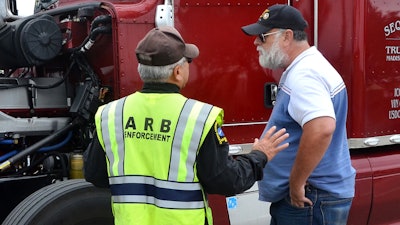 After a morning session focused on electric vehicle adoption, Friday's Super Session at the 2022 American Truck Dealers' (ATD) Show in Las Vegas turned its attention back to diesel and how regulatory disconnect is likely to negatively impact the new truck sales in the years ahead.
An economic update from Andrej Divis with IHS Markit kicked off the session, with Divis adding further context to his report earlier this week at the NTEA Work Truck Show on how the Class 4 to 8 market is likely to grow in the years ahead. Divis reiterated the conflict in Ukraine could negatively impact the global and U.S. economy in the months ahead but says the "fundamentals" for the U.S. economy are very strong. Divis says IHS Markit's most recent forecast predicted U.S. GDP would grow by 4.1 percent in 2022 and normalize back to pre-pandemic levels at 2.5 percent in 2023. He also notes the economy's 5.7 percent growth rate in 2021 was so strong the country didn't just return to 2019 levels but exceeded them.
Within the trucking sector, Divis says the Class 5 market was quickest to rebound after cratering early in the pandemic and says the rate at which the Class 8 market rebounds continues to be impacted by supply chain and production capabilities, as well as the driver shortage. He again mentioned Class 6's inherent driver advantage over Class 7 (the former doesn't require a CDL) and added Class 8 production challenges are likely to continue into 2023.
[RELATED: Trucking economists ponder impact of Russia's war on Ukraine]
Divis also says that while IHS Markit's research indicates EV acceptance in the heavy-duty sector is likely to grow substantially this decade, it is likely to capture new vehicle demand and not cut into the total number of internal combustion engine-powered trucks on the road. He says IHS Markit's research shows the number of heavy diesel trucks on the road actually rising, not falling, between now and 2030.
Jed Mandel agrees.
The president of the Truck and Engine Manufacturers Association (EMA) followed Divis and shared his association's experiences working with the Environmental Protection Agency (EPA) and California Air Resources Board (CARB) to help develop emission regulations for the trucking industry. Mandel says EMA has always supported strengthening emission regulations and continues to do so.
He says on more than one occasion the EMA actually has initiated talks with federal regulators to request more standards. The issue the EMA and its members have now, however, is the decision by CARB to implement its own standards and create regulations that are more stringent and have different implementation dates than the EPA.
Mandel acknowledges the air quality issues in southern California but says it isn't right for a state entity trying to solve a local problem to push national debate. He also notes 60 percent of heavy truck emissions in California are created by out-of-state vehicles, so even if CARB's proposed rules do go into effect, they are unlikely to provide the advantages the state wants to achieve.
"A national rule makes sense," says Mandel. "What is appropriate for southern California isn't appropriate for the rest of the country."
[RELATED: How California's autonomous Air Resources Board muddles national emission regulation debate]
On that note he mentioned the EPA's proposed 2027 regulations that were publicly released last week. Mandel says the EPA has actually released two plans—one that nationalizes California's efforts and another that's not as progressive but still pushes regulation forward from 2024 levels. Mandel says EMA members prefer the latter plan because it is achievable. He says some heavy-duty OEMs question if all California regulations are even possible from an engineering standpoint. EMA members also question if proposals like the state's Advanced Clean Trucks rule — which requires truck dealers to sell a certain percentage of zero-emission vehicles each year — could even work at all without corresponding customer regulation. Mandel says the state can't demand OEMs and dealers sell trucks to customers who have no incentive to buy them.
As for EVs, Mandel reiterated Navistar President and CEO Mathius Carlbaum's sentiment that truck OEMs are very committed to a zero-emission future. He says barriers to adoption remain purchase price and charging infrastructure and the latter will have more of an impact on acceptance than the former.
"This isn't like Field of Dreams where 'If you build it, they will come' [buy these trucks]," he says. "They will buy when the infrastructure is there to support them."