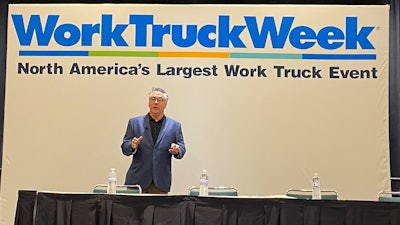 If you're in the used equipment space, you're probably setting sales records these days. The market is hot. Demand is astronomical and supply isn't remotely close to keeping up.
But just because you're moving units doesn't mean you've mastered the art of selling. You might be riding the market wave. That'll keep working as the market stays hot, but when it eventually turns, do you want to keep surfing or crash into the beach?
During an educational session Wednesday at the NTEA Work Truck Show in Indianapolis, Charles Bowles with Trader Interactive and Commercial Truck Trader showcased several online selling best practices that can help dealers strengthen their turn rate and position themselves to remain successful for years to come.
Bowles says the first thing dealers need to accept is online selling isn't a niche — it's vital and here to stay. He says the pandemic accelerated e-commerce acceptance and digital retail adoption by 10 years in two months. Nearly half of (44 percent) of Commercial Truck Trader customers recently revealed they are willing to buy a commercial vehicle entirely online, and 82 percent of used truck buyers say online listings are vital to their research when purchasing equipment. Commercial Truck Trader user traffic alone was up 102 percent from 2019 to 2021.
Bowles says dealers need to accept and embrace that and build a digital ecosystem to support customers as their online expectations grow.
[RELATED: Don't let your used truck customers overlook their service needs]
"It isn't a good idea to fix the roof when it's leaking. You need to do it beforehand," he jokes. "We have to have the tools available for [customers] to be able to do what they want to do."
That starts with well-built corporate websites and search engine optimized equipment listings housed internally and on third-party sites. Bowles says too often automotive dealers who also support the commercial vehicle sector don't always do a good job promoting their commercial capabilities. He says that can't happen. Websites need to be easy to find and navigate and when a customer reaches a commercial vehicle page, new and used equipment listings, store locations and hours, service capabilities and more should all be clearly visible.
And within those listings, specifically, Bowles said dealers should want to get PAID. He says that acronym refers to Price, Appearance, Images and Descriptions, all of which are essential on used equipment listings.
[RELATED: Randall-Reilly disrupts used marketplace landscape with Equipment Experts]
Price: Engagement is terrible on listings without price. Bowles says its "better to have a high price than no price" because it gives customers a baseline to compare to other units. He adds writing "call for price" on a site often leads to the exact opposite where customers won't call at all.
Appearance: This refers to keywords customers would expect to see on a site. He says many customers don't search based on make or model so much as application, "landscape truck near me." He says application, duty cycles, etc., should be included in the first 300 characters of a listing descriptions to maximize Google SEO value.
Images: Bowles says visuals on an online listing increase retention by 42 percent. He says dealers should include as many pictures as possible and avoid OEM stock images whenever they can. "Be honest, show the actual truck," he says. Showing applications in use helps too. Such as a dump truck with its dump bed raised.
Descriptions: This section should highlight the capabilities of the unit and should be a mix of technical information and a vivid description of how the unit can be used. Bowles says customers like reading a description that mentions upfit capabilities and enables them to visualize how they would use a truck.