Noregon
In May, Trucks, Parts, Service published data from a recent Randall Reilly survey addressing telematics and remote diagnostics and the surprisingly low adoption rates OEM remote diagnostics packages have among truck owners once their initial subscriptions expire.
We also spoke to OEMs about their solutions, asking them how they continue to enhance the solutions and better position their products both to maintain existing customers and entice new business.
In following up on that report, TPS thought it was important to also speak to third-party telematics companies about their solutions.
Nearly half (44%) of Randall Reilly survey responders said they do not renew their OEM telematics services because they have "other processes in place and [the OEM solution] was redundant." That percentage was even higher (52%) among fleet responders. Additionally, when responders were asked if they used a third-party telematics service to gather vehicle information, 39% said yes, with fleets again skewing higher at 45%.
[DOWNLOAD RANDALL REILLY'S FLEET TELEMATICS SURVEY REPORT]
Noregon, which had an 8% usage rate among survey providers, says a big selling point of its product is its versatility. TripVision monitors everything happening in a unit but it doesn't bombard drivers and fleet managers with information, says Noregon Product Manager David Shuttleworth.
"TripVision empowers drivers to focus on safely operating the vehicle and not worry about all new fault codes that may become active on the vehicle. TripVision gives fleet managers the tools and insights to know what is wrong with the vehicle and how to best manage that vehicle in its current state," he says. "TripVision is designed for fleet managers to not have to constantly monitor the application to be aware of how their assets are performing. Fleet personnel can create configurable alerts for different members of their organization to be informed via email or text when a certain fault arises, health or safety scores cross a defined threshold, or another pre-defined event occurs."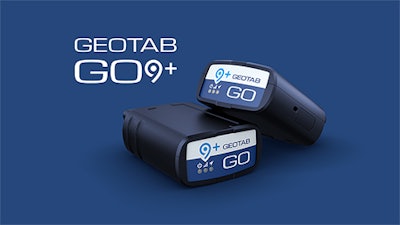 Geotab, which is used by half of Randall Reilly's owner-operator survey responders, earns market share by being inclusive, says Scott Sutarik, vice president of enterprise solutions. Sutarik says Geotab's biggest advantage is its ability to pull data hundreds of devices on a tractor or trailer and make that data available to vehicle owners. A small fleet or owner-operator only interested in telematics due to ELD requirements may only use Geotab's solution to pull that data, while a large fleet zeroed in on fuel economy or vehicle maintenance can be receiving thousands of points of data through the Geotab gateway.
Like Noregon, Sutarik says Geotab's system is built to not overwhelm customers with data. All information is captured and collected, but only data that requires immediate attention is pushed to a truck driver or owner. Sutarik uses coolant temperature as an example. He says a truck's coolant temperature fluctuating within a normal range isn't cause for alarm and doesn't need to be conveyed to a driver. But if that coolant suddenly spikes up 30 degrees in an instant, that data is reported.
Sutarik says he believes one reason fleets and owner-operators may shun remote diagnostics or telematics packages is due to data overload. Systems that don't allow a user to toggle down alerts, or don't provide actionable guidance on how to manage an emergency alert when received.
[RELATED: What fleets think about telematics, remote diagnostics]
"Operationalizing data can be really hard," he says. "If you have a hot load going from Chicago to Memphis and that truck receives an alert, the fleet needs to know if they really need to stop that truck in the moment, or if they can attend to it on arrival."
One thing is for sure, continuing technological innovations on equipment are only going to make remote diagnostics and telematics more important.
Says Shuttleworth, "Vehicle complexity has reached a point where it's become neglectful to only perform a diagnostic scan when the truck is in the shop or has an issue. So many systems on the vehicle are talking to each other and relying on one another to perform properly; fleets must be aware in real time when one of these components has an issue. As technology continues to evolve and vehicles continue increasing in complexity, remote diagnostics will only become a bigger requirement for managing a fleet of heavy-duty vehicles."