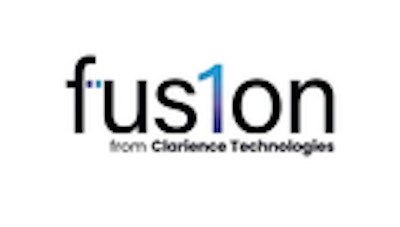 Clarience Technologies announced Monday it making its Fus1on data platform commercially available to customers external to the company, while concurrently expanding its capabilities as the company already begins work on Fus1on 2.0, which will expand its digital fleet data platform beyond advanced trailer telematics and toward smart fleet solutions.
"Fus1on is a game-changing solution for the transportation industry. It is not just a software platform, but a digital ecosystem that connects all the data points in the transportation value chain. Fus1on empowers our customers to make smarter decisions, improve efficiency, reduce costs, and enhance safety," says Nada Jiddou, Chief Digital Officer of Clarience Technologies.
When it was first introduced in October 2022, Clarience Technologies positioned Fus1on as the digital data and analytics platform that would power the company's Road Ready advanced telematics solutions. Since then, the company says Road Ready has been steadily migrating customers onto the Fus1on platform, and today the Fus1on platform is powering a majority of the Road Ready customer subscriptions. Clarience Technologies expects all Road Ready customers to have migrated to the Fus1on platform by the end of the year.
[RELATED: Cummins, industry partners launch telematics software]
Clarience says Fus1on was designed to do much more than just power the company's telematics brand. Software engineers designed the digital platform to address an emerging problem in today's transportation industry — the inability to interpret data and create meaningful insights from disparate fleet data. Today, fleet operators are getting overwhelmed with data coming from everywhere — truck and trailer telematics, repair management platforms, TMS providers, electronic driver logs, Automated inspections, asset lease management systems and more. Until now there has not been a solution on the market that took this fleet challenge head-on.
"Large commercial carriers have been struggling to find meaning in disparate data sources for many years," says Jiddou. "Even those who invested in their own systems to create the data integrations have realized the difficulty of the task. We saw this as an opportunity to help."
With Monday's news, Clarience says fleets will have the ability to subscribe to the Fus1on software platform and get better control of their fleet data. The Fus1on platform architecture is designed to unify fleet data generated from disparate systems with ease. Not only can Fus1on show all data in a single pane of glass, but the company says it also connects the dots between the operational, financial and temporal data of the different aspects of fleet operations. Fus1on is also designed to be AI Ready.
[RELATED: Volvo, Mack launch fleet management portals]
Clarience says the platform has AI/ML capabilities that leverage machine learning principles, enabling the platform to learn more about a specific fleet as more data is ingested so that it can generate more meaningful insights over time. Additionally, its architecture can easily integrate predictive or generative AI tools to give the platform additional firepower should it be needed down the road, the company adds.
As the Fus1on platform comes to market to fleet customers, Clarience Technologies also revealed Monday it is concurrently expanding its software development team to further enhance the capabilities of its fleet data platform. The company has already started work on Fus1on 2.0, which will offer more features and functionalities to meet the evolving needs of the transportation industry. Details on Fus1on 2.0 will be made available in early next year, the company says.