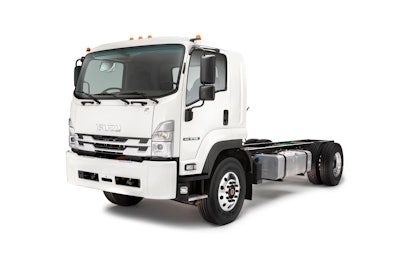 Builtmore Contract Manufacturing, owned and operated by The Shyft Group, announced Tuesday it will produce additional options in the F- and N-series lineups for Isuzu Commercial Truck, including the 2022 F-Series cab-over chassis and the new-in-class N-Series GVWR Class 5 chassis.
 "As the market becomes increasingly more competitive, Isuzu continues to innovate and create products that expand their portfolio and customer reach," says Steve Guillaume, president, Shyft Specialty Vehicles. "We value our relationship with Isuzu and look forward to supporting this growth with new manufacturing capabilities and expansion while maintaining a high level of quality and support."
Assembly of the Class 5 N-Series gasoline-powered chassis will begin immediately, the company says, with production on the 2022 F-Series featuring the Cummins B6.7 engine and a new Class 7 offering to commence later this year at Shyft's Charlotte facility.
"With the additions of the Class 5 gas-powered N-Series models and the Cummins-powered Isuzu F-Series, our product lineup has never been as broad for the growing medium-duty market," says Shaun Skinner, president, Isuzu Commercial Truck of America and Isuzu Commercial Truck of Canada. "The launch of these new products will be a game changer for our customers, creating new opportunities for U.S. and Canadian Isuzu dealers at a very opportune time. We are excited to continue working with The Shyft Group to get these products out in the industry and to Isuzu customers." 
The 2022 F-Series will now be available in two models — the Class 6 FTR (25,950 GVWR) and the Class 7 FVR (33,000 GVWR). As with all Isuzu low cab forward trucks, Isuzu states the FTR and FVR will have outstanding maneuverability, visibility, and comfort, making the truck easier and safer to drive.
The Cummins B6.7 diesel engine has the ability to reach up to 325 horsepower and offers nearly 200 more lb.-ft. of torque, compared to its predecessor's 5.2 liter and 215 horsepower. Its reliability and durability offer a unique combination to commercial truck owners and fleet managers seeking to keep trucks on the road for longer, the company adds.