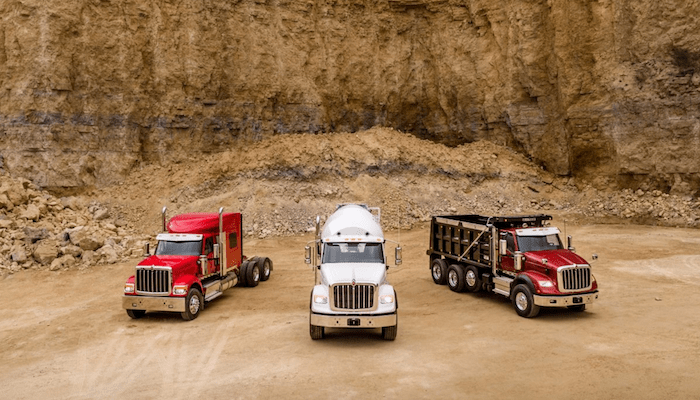 LINE-X announced it has launched a program with International Truck, which allows International dealers to use LINE-X's protective coatings to improve the protection and extend the life of its truck models, helping drivers get superior protection and more durable trucks, the company says.
LINE-X can already be found on select International trucks and was made standard on the new HX Series, which features a redesigned cab that performs in the most punishing vocational applications. Backed by rigorous testing, the extreme duty cab is structurally reinforced in key locations to ensure long life and is now protected by LINE-X to help make it nearly impenetrable to salt, water and other corrosive items. Demonstrating the corrosion resistance of the cab with the support of LINE-X, the new HX Series is backed by a 10-year perforation warranty. LINE-X will be available on the MV and HV Series later this year, the company says.
"International Truck has a fleet of long-lasting vehicles and having LINE-X's durable coatings applied to their products will enhance and protect their assets even further. We're proud to partner with International Truck," says Jeremy Alexander, director of marketing, LINE-X. "This program also will greatly benefit our franchisees as it'll create new business opportunities with one of the world's most recognizable truck brands."
LINE-X coatings are specialized, high-performance spray-on elastomeric coatings engineered for maximum durability and have unlimited potential applications for any business that is looking to protect as well as prolong the life of its products or assets, according to an announcement. Because LINE-X Protective Coatings form permanent bonds at the molecular level, they have excellent adhesion to a wide variety of surfaces. Whether applied to metal, fiberglass, concrete, plastic or wood, LINE-X can absorb impact and resist damage by remaining both flexible and strong, without losing adhesion.
"We designed the new HX Series to perform in the most severe applications, and through extensive customer research we determined that increased protection on the inside of the cab was vital for durability in many rigorous customer applications," says David Hillman, Navistar senior director of vocational segments. "LINE-X coatings are proven to protect the cab from the harshest elements and we are proud to offer their coatings to our customers as a standard offering in the new HX Series."