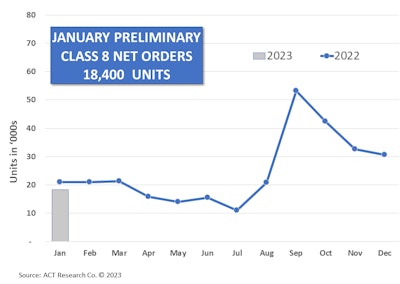 Preliminary Class 8 truck orders slipped for the fourth consecutive month in January, FTR and ACT Research report, bringing totals below production capacity.
FTR pegged the month as 21,600 units, down 25 percent month over month but up 2 percent year over year. ACT Research was even more bearish, tracking January at 18,400 units.
With backlogs already solidifying production slots, FTR says it is not surprising to see orders continuing to fall after hitting a cycle high in September 2022. Despite the consistent drop since then, orders have remained up year over year.
"Over the final four months of 2022, nearly 159,000 Class 8 net orders were placed, up 92 percent year over year and only 8 percent below those placed over the same period in 2020," says Eric Crawford, ACT Research vice president and senior analyst. Crawford adds ACT's January preliminary total is the first year over year decline the company has recorded since August 2022.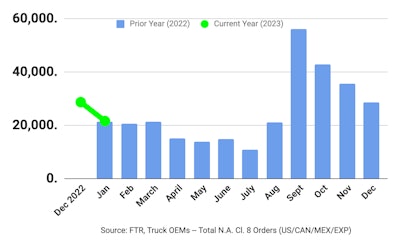 "Orders remain above replacement demand levels but are below recent production activity. As such, backlogs likely moved slightly lower in January," says Eric Starks, FTR chairman.
[RELATED: Used truck depreciation intensified in December with year-end selloff]
He adds, "Putting the order numbers into perspective is important. In the first half of 2022, orders averaged just shy of 18,000 units per month. This suggests that recent activity is healthy, and January itself is up 2 percent. This type of activity by fleets indicates they are not overly concerned about an economic recession and continue to lock in build slots for the second half of 2023."
FTR says Class 8 orders have totaled 303,000 units over the last 12 months.
In the medium-duty sector, ACT Research says preliminary January orders were 17,800 units for Class 5-7 equipment.
"Medium-duty demand was comparatively healthy. January Classes 5-7 orders rose 5 percent year over year and 2 percent from December. The seasonally adjusted January intake, at 18,100 units, was up 4 percent year over year and 12 percent month over month," Crawford says.