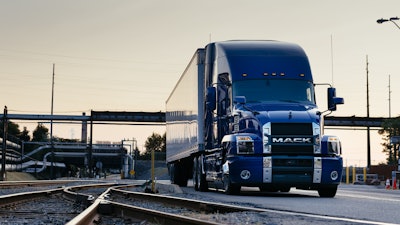 Class 8 order boards for 2023 officially opened in September as the market hit an all-time single month record. ACT Research reported 53,700 preliminary orders; FTR reported preliminary orders of 56,500 units.
FTR says the total was up 169 percent month over month and 102 percent year over year. Class 8 orders have now totaled 254,000 units for the last 12 months.
In analyzing the burst in orders — preliminary Class 8 orders in August were approximately 21,500 units — ACT Research Vice President and Senior Analyst Eric Crawford says it appears OEMs chose to open their order boards early. Class 8 orders typically trend up in October.
[RELATED: Rihm Kenworth wins 2022 Successful Dealer Award]
Crawford says September's orders translate to 60,900 units on a seasonally adjusted basis (up 161 percent month over month and 94 percent year over year), and equivalent to more than 730,000 units across a year.
"September Class 8 orders were sensational no matter how you slice the data," he says. "The past 12 months, 249,800 Class 8 orders have been booked."
FTR adds the record number indicates further testimony that there remains a tremendous level of pent-up demand. 
"With order boards officially open for 2023 build spots, Q4 monthly order levels will likely be dependent on how far into 2023 manufacturers are comfortable accepting orders amidst an unforgiving supply chain environment that is now expected to persist well into 2023," says Charles Roth, commercial vehicle analyst, FTR.
"Demand continues to put pressure on manufacturers as many dealerships have now indicated OEMs are now allocating production capacity for 2023 build slots. This is in large part an effort to improve on time delivery performance while also reducing the impact a potential component shortage may have on production plans. Many dealers have indicated that as a result of component availability they have had orders pushed out into the future or delayed as a result of red tag units having to be finished off-line."
He adds, "Fleet confidence remains solid entering 2023, as many large national fleets are getting their truck orders in as early as possible for next year's deliveries. Due to the limited availability of new equipment fleets have not been able to phase out aged equipment over the past two years. As a result, we anticipate replacement demand to stay elevated throughout 2023."
Crawford also notes using an October seasonal adjustment factor (typically the beginning of next-year orders), Class 8 September orders would translate to 43,800 units, equivalent to 526,000 orders on an annualized basis. 
Classes 5-7 also rose to 26,600 units, ACT Research reports, which were up 39 percent month over month and 7 percent year over year.