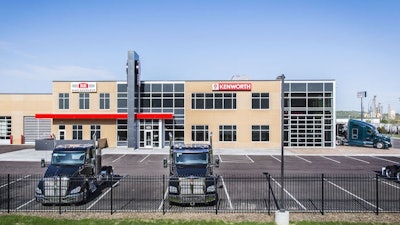 Rihm Kenworth has won the 2022 Successful Dealer Award. The announcement was made Tuesday during a special awards banquet in Nashville, Tenn., to celebrate the 10-year anniversary of the award program.
Rihm Kenworth beat out 2019 award winner and returning finalist Doggett Freightliner, second-time finalist Peach State Truck Centers and first-time finalists M&K Truck Centers and Thompson Truck & Trailer to win this year's award. The 2022 Successful Dealer Award program is sponsored by Automann, Interstate Billing Service, Karmak, National Truck Protection and Premium 2000.
"I am so grateful and humbled to become a member of a class of heavy-duty truck dealers all with highly distinguished careers, high-performing enterprises and personal contributions to the great trucking industry," said Rihm Kenworth President and CEO Kari Rihm during Tuesday's award presentation.
Rihm went on to thank her family, the Rihm Kenworth workforce, industry sponsors and fellow dealers for supporting and motivating Rihm Kenworth to continue growing, evolving and striving to be the best dealer entity it can be. Looking back, she said she can remember points in her career where 'success' wasn't quite as defined, which made Tuesday's announcement all the more rewarding.
"I can recall many days at the beginning of my tenure of a truck dealer when I did not feel successful. I just felt tired and and afraid I'd fail. I especially remember one day J.B.[Rihm] was in my office and I was tearful and he asked why. I said because I just want to be successful. He said, 'But we are successful" and started to list the reasons why. Sometimes amid all that we do and are responsible for, we don't have the perspective we should, and it takes someone else to point it out."
Rihm also thanked those who came before her, both within the industry and her operation.
"We're dealers; we're not competitors. We're part of a great industry," she said. "Competition for business is one thing — building a stronger network to support the overall industry is another. Even if it sharing our time, it's smart to get to know our competitors. We can all use our success and influence to strengthen our communities by sharing our talent, resources, time and passion — after all, the business we are in supports our way of life in this country and strong communities create success for everyone."
---
Founded as Rihm Motor Company in the Twin Cities during the Great Depression, the company now known as Rihm Family Companies (which includes Rihm Kenworth) has been serving the transportation industry across the upper Great Lakes region for 90 years.
Rihm Kenworth operates seven new truck dealerships, while the parent company's all-makes and leasing businesses expand the overall Rihm network to more than 20 store fronts in Minnesota, Wisconsin and South Dakota.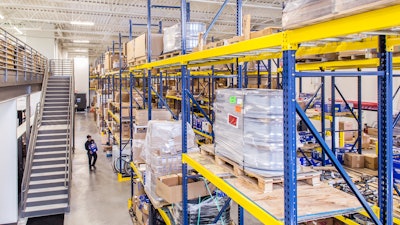 With more than 350 associates companywide, Kari says one of the company's greatest assets is its customer service consistency. The business uses the Entrepreneurial Operating System (EOS) library of tools and business concepts to drive efficiency, set expectations and meet corporate benchmarks and since its implementation, Rihm has developed an optimal, uniform customer service strategy that draws business from miles around.
"From the time I started my desire was always for our customers to have the same service when they came into any of our locations. That was hard to do," Kari says. "We only had three [locations] then but over time we had created a culture of tolerance; we were accepting things from our people we shouldn't have. We have gradually worked toward a culture of accountability. We have goals, expectations. Our people know what is expected of them and when something doesn't get done, they know it will become an issue … That's helped change the approach of our employees and how they interact with customers."
[RELATED: How a tragedy led to the transformation of Rihm Kenworth]
She adds, "We have customers who will say, 'It's worth it to drive a little bit farther to your store because of the way your people treat me,'" Kari says. "That's what we want. We want customers to tell others 'Go there, they will treat you right.'"
And Rihm Kenworth has the business to prove it. The dealer has expanded its Class 8 market share by 84 percent from 2010 through 2021, and its Class 6 and 7 market share by 121 percent. Since Kari Rihm took over the business in 2012 after her husband's death, the company has tripled in size.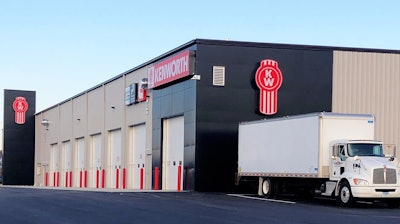 Chief Operating Officer J.B. Rihm attributes the company's expansion to more than its customer service reliability. He says Rihm Kenworth succeeds because it never stops engaging with its customers and never hesitates to invest in solutions that can strengthen their business. After all, he says a dealer's job is more than just selling parts and service, it's about being a true consultant and partner. An expert a truck owner can turn to at any time to better their business.
On that note, he says Rihm's participation in a national customer concierge program of Kenworth dealers has been vital. The program, which consists of more than a dozen Kenworth dealers and was created solely by the dealer groups and not the OEM, is a one-of-a-kind partnership where dealers from across North America communicate with each other in support of their customers so as those customers travel through multiple AORs they always have access to a dealership that is capable of meeting their every need.
"That's been a big differentiator for us," J.B. says. "Having a point person customers can communicate with us no matter where they are" and the dealer they are using.
[RELATED: Learn more about our other 2022 Successful Dealer Award finalists]
Rihm Kenworth also is a business willing to think outside of the box. In 2020 during the early stages of the pandemic the business launched 'Let's Talk Shop," a series of monthly virtual webinars where Rihm welcomes product experts to provide technical assistance to customers.
"Before COVID we had always done customer events and when we realized we couldn't do them anymore we immediately asked ourselves how we could remain engaged," J.B. says.
The company has other connection methods too. Rihm publishes a monthly magazine that features product specials for customers, company updates and news and lifestyle articles. The dealer says the informative tool "helps customers and team members keep up to date with our industry and company news."
Rihm Kenworth also is impressively connected to its communities. The business is an active participant in nearly a dozen chambers of commerce — including the Minnesota chamber, in which Kari is a board member — and supports several small business associations and college readiness groups.
Then there's the company's commitment to driving diversity into the dealer industry. As one of trucking's few female truck dealers, Kari dedicates a large portion of her time to educating and recruiting young people to the many career opportunities found in trucking.
Kari earned Women in Trucking's (WIT) Most Influential Woman in Trucking Award in 2015 and the dealership has been named a Best Company for Women to Work for in Transportation and Top Woman-Owned Business by WIT five years running.
She says showcasing Rihm Kenworth and the dealer industry to young people unfamiliar with trucking is essential to growing the industry's next generation of leaders.
"We want to expose them to this business so they see there is a place for them here," she says.