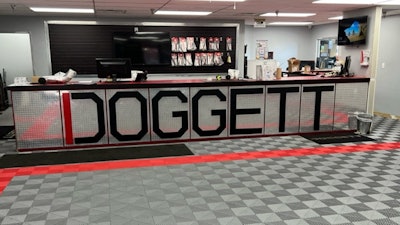 Everything at Doggett Freightliner is built around uptime.
In its sales operations, account managers are carefully trained to understand not only the equipment they represent but also the optimal use cases for all of it to ensure customers select the proper spec for their business during every purchase.
In its parts departments, Doggett associates have access to an enormous parts inventory, both in parts volume and SKUs, to support all customer requests. And in its service departments — the workplaces of some of the most highly decorated technicians in North America — constant training, product literature and shop management tools are leveraged to maximize the throughput and effectiveness of the company's 15 locations.
Executive Vice President Paul Burk says Doggett's investment in uptime doesn't come cheap, but it's essential in the company's mission to provide the "Doggett Difference." Burk says when customers come to Doggett Freightliner, they enter into an ecosystem built around a culture of service excellence and support unlike anything else in the North American trucking industry.
"We believe the 'Doggett Difference' is what separates us," he says. "Our willingness to go above and beyond in all areas to provide the best customer service defines everything we do."
He adds, "If you're not committed to customer service, you're probably not going to work here. But if you are, we will have great success together."
[RELATED: How a tragedy led to the transformation of Rihm Kenworth]
Now a finalist for the Successful Dealer Award for the third time, Doggett Freightliner's success is no longer up for debate. First nominated for the award in 2015, Doggett Freightliner won the Successful Dealer Award in 2019 and with its nomination this year it is the first prior winner in the 10-year history of the award program to be recognized as a finalist after having previously won the award.
It's a distinction the team at Doggett accepts humbly yet assuredly. While recognition of any kind is appreciated, Burk notes that at Doggett Freightliner, being the best is part of the company's DNA. It's why the company invests so heavily into training and support for its workforce — now more than 700 strong across its network.
You can't be the best unless you're willing to do whatever it takes to make that possible, he says. "We don't skimp on training. When our people need something, we go out and get it."
Adds Steve Hancock, director of new truck sales, "We like to say if you buy a truck from us, you're stuck with us. We mean that in a good way. Once a customer buys from us we do everything we can to support them after the sale. Our business succeeds when their business succeeds."
And the Doggett Difference isn't only about training. Doggett Freightliner's fleet advocates also work with fleet partners to better understand their operations and equipment needs and work in partnership with those customers to develop and maintain purchasing strategies to best support their businesses. Hancock says Doggett Freightliner knows not every customer it serves is in trucking by trade so the dealer group positions itself as an industry expert to inform and assist those customers whenever possible.
Equipment and parts purchasing guidance is just a fraction of the company's customer support. Doggett also supports driver recruitment and training for customers, offers onsite and in-house product and technician training, owns and operates its own truck body upfit center, has a full fleet of mobile and onsite service vehicles and utilizes a number of service communication and transparency tools to inform customers of repair updates.
[RELATED: Check out the other finalists for the 2022 Successful Dealer Award]
The company also recently purchased an independent parts distribution business to expand its aftermarket and all-makes sales capabilities and is opening multiple used truck retail facilities to better distribute its used inventory within its AOR and provide better deals to its customers.
Burk says each investment was made to address a market need and support Doggett's ever-expanding customer base.
"We want to be leaders in this industry," he says.
Beyond its Successful Dealer Award recognition, Doggett's workforce also has begun piling up accolades. Doggett technicians took first and second place at this year's Arkansas Trucking Associations' tech contest and the company's team won the state title in 2019. Several Doggett sales associates were named to Daimler's Leland James top salesperson list in 2021 and 2022, and Doggett Freightliner has been a top dealer in the Great Dane dealer network for the past two years.
The company also invests heavily in supporting technician recruitment on a regional and local level, which is necessary for the long-term success of the Doggett Difference and the dealer industry as a whole, Hancock says. "If we can show them this career path and support them, that will help everyone."
The 2022 Successful Dealer Award is sponsored by Automann, Interstate Billing, Karmak, National Truck Protection and Premium 2000. The 2022 Successful Dealer Award will be presented in October at a private awards banquet in Nashville.