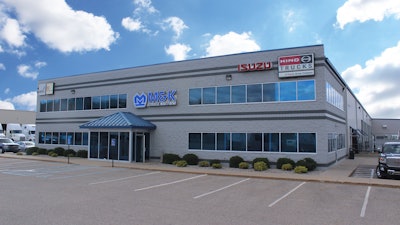 With locations stretching from suburban Chicago to Scranton, Pa., M&K Truck Centers is one of the most recognized truck dealer groups in the Northern U.S.
Founded by CEO Ron Meyering as a used truck dealership in Michigan in 1989, M&K Truck Centers has cultivated a reputation as a dedicated, service-based operation, a dealer group willing to consider and invest in any business opportunity that may strengthen its relationship with its customers.
It's a business that knows how to expand its footprint without losing its touch — growing, both, with and for its customers.
Looking at the company's impressive growth trajectory, Meyering says the company's size today sometimes surprises even him. M&K didn't enter the new truck space until 2002 and didn't commit to an aggressive expansion strategy until 2007. Meyering remembers evaluating the dealer space at the time and determining "in order to be successful, we realized we were going to have to be a lot larger than we were. There was no great future for what we were."
A two-location dealer at the time, M&K made its next acquisition in 2010 and hasn't slowed down since. This year it added nine stores and an e-commerce website after announcing seven acquisitions in 2018. The company now operates 28 facilities across five states, supports Volvo, Mack, Hino and Isuzu trucks, several more trailer brands, employs a staff of more than 1,000 and in 2022 for the first time has been named a finalist for the Successful Dealer Award.
It is the workforce Meyering immediately turns to when asked to explain the company's momentous growth. M&K's leadership team may have developed its first expansion plan, but once the company's associates were put into action the business took off.
[RELATED: Check out the other finalists for the 2022 Successful Dealer Award]
"I think we were probably nominated [for the Successful Dealer Award] for a couple of reasons, one of which is I believe we have the best people in the industry. Period. Bar none. Full stop," Meyering says. "The completeness of our offering is probably another reason, but that doesn't matter without our people."
Adds Chief Operating Officer Josh Wolf, "We strive to be the best in everything. I don't know any dealer who is better at pivoting and adapting to customer needs than we are. That's all because of our people."
Meyering and Wolf say the uniqueness of M&K's workplace culture comes from several areas. One of which is how the company adds workers. Expanding a workforce through acquisition can be challenging in any industry. At M&K, Meyering says employees added in an acquisition maintain their tenure and benefits level from their prior employer. He says this helps new employees feel comfortable and valued within M&K's operation and increases their likelihood of buying into the company's culture.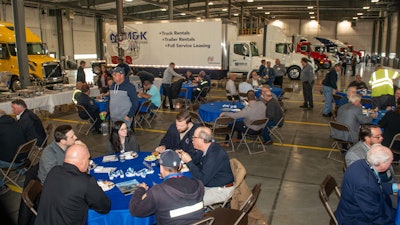 Wolf says another advantage to M&K's expansion strategy is its prudence when making changes. "We spend a lot of time in the first six months [after an acquisition] taking a backseat and just watching."
Adds Meyering, "When we get into an area where we're not currently in the market, we like to say, 'don't break it.' Understand it before you make any changes at all."
Additionally, changes within M&K Truck Centers can come from anywhere. Meyering, Wolf and Anthony Gargano, senior vice president of sales, all solicit and encourage the company's workforce to suggest changes that can strengthen the operation.
[RELATED: How Peach State Truck Centers became a business of choice for so many]
"If you can make a business case for something and it will allow us to say yes to customers, we consider it even if it doesn't turn huge profits right away," says Gargano. "If there's a case for it, we will look into it."
M&K invests in its associates, too. Wolf and Gargano joined the company through acquisitions and have ascended into leadership roles. Meyering says the business promotes internally whenever possible and believes strongly in the value of internal career paths.
"We want our employees to be engaged in relationships with our customers" and they are most likely to do that when they're engaged in the business, Meyering says. "We want to give our people the opportunity to excel."
M&K's complete line of solutions also helps in that regard. Beyond equipment sales, parts and service for trucks, trailers and motorcoaches, M&K operates its own finance company, has a 1,200-unit leasing and rental fleet, offers contract maintenance, a private label part brand and operates Class8truckparts.com, one of the fastest growing e-commerce sites in the parts sector.
"We want to support our customers in all areas of their business," Gargano says.
The 2022 Successful Dealer Award is sponsored by Automann, Interstate Billing, Karmak, National Truck Protection and Premium 2000. The 2022 Successful Dealer Award will be presented in October at a private awards banquet in Nashville.