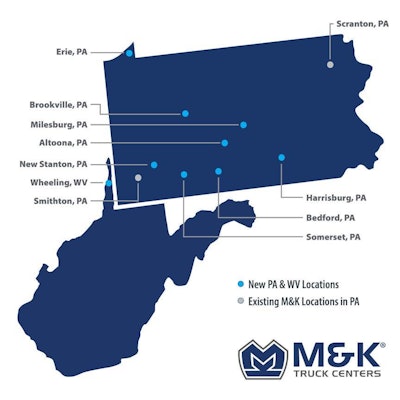 M&K Truck Centers on Tuesday announced the successful acquisition of nine dealerships, an e-commerce parts sales operation and a Fire & Rescue Products company.
All of the newly acquired dealerships and business operations were previously owned by Legacy Truck Centers. The acquisition was completed on Dec. 31, 2021.
Effective Tuesday, M&K will offer Mack, Volvo, and Isuzu products and all support services out of the new Pennsylvania locations in Altoona, Bedford, Brookville, Erie, Harrisburg, Milesburg, New Stanton, Somerset and from its Wheeling, W.V., location. The e-commerce operation comes with a strong online parts sales presence its popular website. The Fire & Rescue Products Company (FRP) sells KME Fire Trucks in addition to clothing products for firefighters, breathing apparatuses and emergency extraction tools. 
[RELATED: Velocity Truck Centers continues growth, acquires Carolina dealer]
M&K Truck Centers also has retained nearly all of the Legacy Truck Centers employees including the previous owners, Matt Niebauer and John Niebauer.
"Our leadership team is thrilled to welcome both Matt and John to the M&K family in addition to over 200 talented new employees and we look forward to an exciting 2022 as we work together to integrate these operations," says Ron Meyering, M&K's CEO. 
The company says it is focused on ensuring all customers' needs are met and providing excellent customer service throughout the transition and for many years to come.
This acquisition also is a major milestone for M&K's continued growth — expanding the company's footprint to 29 locations in five states. The addition of the Legacy operations complements our overall sales, parts, service, rentals and leasing offerings so the company can now provide added capacity and geographic presence in the Northeast. This expansion throughout the state of Pennsylvania and in Wheeling, W.V., will be a benefit to the customers of both M&K as well as Legacy Truck Centers by creating a network of locations for customers traveling across the major I-80, I-90, I-76 and I-70 corridors between most major cities on the East Coast and the upper Midwest.
Below are the new M&K Truck Centers facilities:
Altoona - 

649 Brush Mountain Road, Altoona, PA 16601

 | M-F from 7:00 AM - 11:30 PM & Saturdays 7:00 AM – Noon
Bedford - 

170 Transport Street

, 

Bedford, 

PA

 15522

 | M-F from 7:30 AM – 5:00 PM & Saturdays 8:00 AM – Noon
Brookville - 

230 Allegheny Blvd.

 

Brookville, 

PA

 15825

 | M-F from 7:00 AM - 11:00 PM & Saturdays 7:00 AM – Noon
Erie - 

3900 Depot Road

, 

Erie, 

PA

 16510

 | M-F from 7:00 AM - 11:00 PM & Saturdays 7:00 AM – Noon
Harrisburg - 

4230 Industrial Road

, 

Harrisburg, 

PA

 17110

 | M-F from 7:00 AM - 11:30 PM & Saturdays 8:00 AM – Noon
Milesburg - 

250 Tracey Dale Road

, 

Howard, 

PA

 16853

 | M-F from 7:00 AM – 5:00 PM & Saturdays 7:00 AM – Noon
New Stanton - 

2141 Mt. Pleasant Road

, 

West Newton, 

PA

 15089

 | M-F from 7:00 AM - 11:00 PM & Saturdays 8:00 AM – Noon
Somerset - 

178 Lewis Drive

, 

Somerset, 

PA

 15501

 | M-F from 7:30 AM – 12:00 AM & Saturdays 8:00 AM – Noon
Wheeling - 

20 23rd Street

, 

Wheeling, 

WV

 26003

 | M-F from 7:30 AM – 5:00 PM & Saturdays 8:00 AM – Noon